Australian retail turnover increased by 2.7% in June 2020, seasonally adjusted, according to the Australian Bureau of Statistics (ABS) Retail Trade figures, although retail volumes fell by 3.4% for the June 2020 quarter.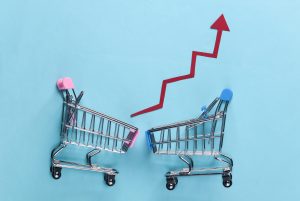 Director of Quarterly Economy Wide Surveys Ben James said this followed an increase of 16.9% in May 2020.
"The June month saw the continued recovery of industries impacted by trading restrictions in April and early May," said Mr James. "There were large month-on-month rises in cafes, restaurants and takeaway food services (27.9%), and clothing, footwear and personal accessory retailing (20.5%)."
Food retailing (0.9%) was boosted by a growth in sales in Victoria at the end of the month. Other retailing (0.3%) increased in June, while there were declines in department stores (-12.1%) and household goods retailing (-3.2%).
In seasonally adjusted terms, there were increases in New South Wales (3.7%), Victoria (4.1%), Western Australia (2.5%), South Australia (1.3%), Tasmania (4.0%), Queensland (0.4%), and the Australian Capital Territory (3.8%). The Northern Territory (-4.9%) fell in seasonally adjusted terms in June 2020.
Online sales remain elevated, making up 9.7% of total retail sales in June. Online contributed 6.1% in June 2019.
National Retail Association CEO Dominique Lamb said that the reintroduction of lockdowns in Victoria, the return of panic buying in parts of the country and general nervousness over a second COVID wave meant that retail would continue to experience a challenging period in the months ahead.
"Although there was a sold rise for the month of June, retail volumes for the quarter went backwards by the biggest amount since the introduction of the GST," Ms Lamb said.
"It was the first full month that restaurants and clothing stores had been allowed to trade, with many being forced to close in April and May. We expected a pickup in sales for these businesses but turnover for this section of retail is still well below June 2019."
Ms Lamb noted that the situation in Victoria demonstrates that retail is in for a bumpy road ahead, particularly if other states are also forced to reintroduce restrictions.
"Victoria entering Stage 4 lockdown ensures that retailers in that state will certainly suffer immensely for the foreseeable future.
"We're starting to see a return of panic buying in certain parts of the country, with consumers starting to get nervous about a possible uptick in infections.
"With only one per cent of retailers looking to employ more people at present, business confidence remains stubbornly low. The extensions of JobKeeper and JobSeeker will help, but employers will continue to be very cautious over the period ahead," Ms Lamb said.