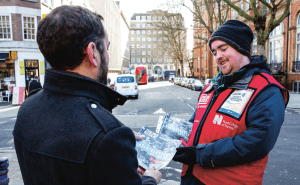 The Big Issue magazine is sold by some of the UK's most vulnerable people to lift themselves out of poverty. Starting today, to give them a hand, Sainsbury's and McColl's will be selling the magazine to maximise sales during the COVID-19 crisis.
The magazine is available to purchase from Sainsbury's both online and in selected stores. From McColl's, Martin's and RS McColl it will be in store as a temporary measure, with the magazine remaining on sale until Big Issue vendors are able to return to work.
"We are proud to be supporting a cause as important as The Big Issue Group, which exists to offer homeless people, or individuals at risk of becoming homeless the opportunity to earn an income," says Commercial Director at Sainsbury's, Paul Mills-Hicks.
"Coronavirus has affected everyone in the UK, and it's important that we show our support for each other in these increasingly challenging times."
About The Big Issue
The Big Issue offers homeless and vulnerably housed people across the UK a means by which to earn a legitimate income.
Recently, the magazine had to make the decision to safeguard its network of vendors by asking they stop selling on streets across the whole of the UK with immediate effect, for the foreseeable future.
"We hope that by providing a means for our customers to purchase a copy of The Big Issue, we can encourage people to continue to buy the magazine, which so many vulnerable people rely on," says Mr Mills-Hicks.