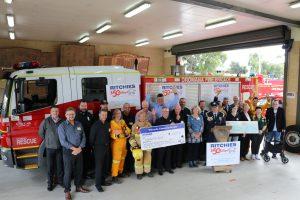 The Ritchies Community Benefit program began in 1993, and since then the supermarket has raised a total of $50 million.
Since the launch of the program, donations have been made to the grocery bills of local schools, clubs or charities of their choices.
The $50 millionth donation has been made today, delivered to the Dromana CFA, with a $5000 cheque being presented to Captain Timothy Desmond, Dromana CFA.
"We're so grateful to receive Ritchies $50 millionth donation," Mr Desmond says.
"Dromana brigade, which was established in 1929 has been serving the broader Victorian community for over nine decades."
How has the donations helped?
"Our monthly payments from the program have to date totalled over $334,000 ultimately allowing us to invest in five new vehicles and essential equipment like duraline hoses, positive pressure fans, and electronic equipment such as mobile telephones, portable CFA radios, iPads for appliances as well as station computers and furniture," explains Mr Desmond.
Ritchies longstanding CEO, Fred Harrison says, "We are honoured that the Ritchies Community Benefits Program has changed the lives of many Australians and enriched countless organisations that help our local communities.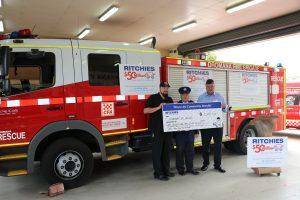 "We're so proud of what we have achieved to date. 50 million is just the start."
Australians vote: Top ten charities as nominated by Ritchies shoppers
Victorian CFA's – $3 million (combined figure – Brigades received individual amounts)
RSPCA – $2,750,000
Cancer Council – $2,699,000
Salvation Army – $1,850,000
Royal Children's Hospital – $1,580,000
Ritchies Emergency Relief Fund – $876,972
Westpac Rescue Helicopter – $613,217
St Vincent De Paul – $488,429
Peter MacCallum Cancer Centre Vic – $411,420
Guide Dogs – $414,828