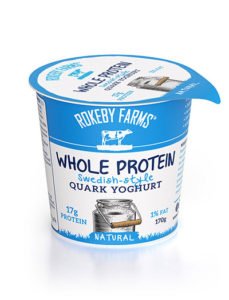 Australian-owned Made Group has introduced Rokeby Farms Quark Yoghurt, which it claims is the first traditional Swedish-style yoghurt available in Australia.
The yoghurt is said to have a milder flavour than Greek yoghurt and contains one per cent fat.
Quark is a type of fresh dairy product made with a special blend of cheese and yoghurt cultures that has long been a daily tradition in Sweden. The Rokeby Farms product is made the authentic Swedish way by culturing fresh milk at a lower temperature for longer to create a product that is naturally rich in protein and mild in flavour. Made claims to use a unique cold filtration process that increases the natural protein by three times giving the yoghurt a thick, creamy texture at only one per cent fat.
"Quark has been a diet staple in Sweden and other parts of Europe for centuries and is an emerging category in US," Made Co-Founder Luke Marget said. "The texture is smooth but thick, thicker than Greek yoghurt in fact, but with a milder taste. This makes it great on its own or with cereal for breakfast, spreading in sandwiches as a nutritious replacement to cheese or a healthy substitute for cream or cream cheese in cooking."
Rokeby Farms Quark Yoghurt is available in Natural, Vanilla, Strawberry and Coconut with an RRP of $2.80 per 170g tub.
This is the second product range under the Rokeby Farms brand. Further product innovation is expected to launch in late 2017.