Romeo's Retail Group unveiled its latest concept store in Sydney on April 22. Located in the Locomotive Workshop at South Everleigh, Romeo's Food Hall IGA is said to draw inspiration from stores in Europe and the US. It features a pizzeria, patisserie, sushi bar, and carvery.
The opening comes just one month after the launch of  Locali by Romeo's IGA on George Street, Sydney. As with Locali, Romeo's collaborated with executive chef Orazio D'Elia on the food offering at the new store.
The extensive food-to-go offer caters to locals as well as inner-city workers. A growing number of businesses operate in the precinct, including the Seven Network and Commonwealth Bank of Australia.
In addition to freshly made food, the new store offers a huge variety of niche products from local and international producers. There is an instore fish monger, a walk-in cheese room, an in-store florist (sweetly named Romeo's and Juliet), and a huge range of fresh local fruit and vegetables – creating an elaborate fresh market feel.
Romeo's Retail Group owner and Director Joseph Romeo compares the store to a fine red wine.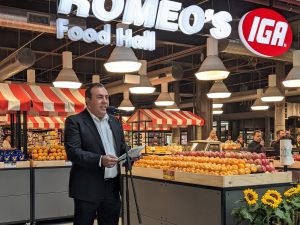 "As the years go by, it's going to get better and better and better," he says.
The store has a unique look and feel thanks to the building in which it is located. Established in the late 19th century, the Locomotive Workshop is one of the states' most significant heritage buildings. It comprises a two-storey sandstone and brick structure and showcases heritage features including cast iron columns, wrought iron trusses and heritage artefacts throughout the precinct. These heritage features are highlighted within Romeo's store through creative lighting and displays.
Speaking on behalf of Mirvac Retail, National Manager of Leasing Strategy Manuela De Rossi said they were "thrilled" to have the Romeo family join the South Everleigh site.
"We've been carefully curating the retailers we brought into South Everleigh," she says.
"We have other chains that want to be a part of this as well. And what Romeo's proved to us is that they can really be authentic, they really connect with the community.
"We have the lowest wage bracket and the highest [living in this area]. They love diversity and they want to connect and be together. We believe the Romeo's family will celebrate that with the community and give them what they need in one stop shop."