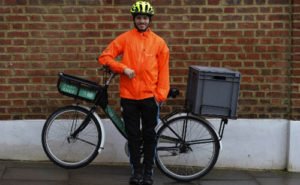 More than 130 years since Sainsbury's first offered a home-delivery service by bicycle, the retailer is preparing to trial the service again via its IOS Chop Chop App.
Chop Chop enables customers to order up to 20 items from Sainsbury's and have them delivered by bicycle within one hour, for a flat fee of £4.99 ($8.45).
To run the service, Sainsbury's has recruited a team of 40 shoppers and cyclists. As soon as an order is placed, Sainsbury's colleagues in either its Wandsworth or Pimlico stores will receive the information on an app and shop for the products. Another Sainsbury's colleague will then deliver the order by bicycle. Customers pay via the app and can track their order. If a product isn't in stock, the shopper will call them to ask if they want a substitute item.
"This trial is part of our strategy to give our customers more options to shop with us whenever and wherever they want," Sainsbury's Director of Digital and Technology Jon Rudoe said. "Speed of delivery is important to some customers, so we have brought back our bicycle service to test demand further."
Mr Rudoe says customers are using the new one-hour delivery service to buy forgotten items, or emergency goods when they cannot leave their homes, or have invited guests on the spur of the moment.
"If it proves popular, we might introduce it to other areas of London," he said. "It complements our same-day delivery service which is available at selected London postcodes through our online groceries service."