Seafood Industry Australia (SIA) has appointed Food South Australia CEO Catherine Sayer and Clamms Seafood CEO Stephaine Kaparos to its Board of Directors.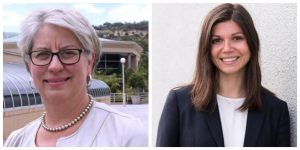 On behalf of the SIA Board, Chair Chauncey Hammond says he's pleased to announce the two new appointments.
"We look forward to their contribution to both SIA and the interests of the broader Australian seafood industry over the years to come," he says.
Ms Sayer says she's been in the seafood industry for many years across many sectors and in many roles, as an industry representative, in fisheries management and on government boards and committees.
"The South Australian seafood industry is a critical sector in our state, and I am really looking forward to being on the SIA Board to support the whole of the seafood industry nationally," she says.
"Being the CEO of Food SA, I have over 10 years' experience in managing a peak body and I look forward to providing meaningful input into further building on the success of SIA."
Commenting on her appointment, Ms Kaparos says she's thrilled to have been selected to join the SIA Board.
"I'd like to thank SIA and the seafood community for supporting my nomination. It is a privilege to be elected as a Director. I appreciate your confidence in me in working towards achieving the strategic vision and furthering the success of SIA," she says.
"I look forward to contributing my wealth of knowledge and experience, particularly in the post-harvest sector to provide a practical and pragmatic approach to SIA and the broader industry."
Mr Hammond adds: "I would also like to take the opportunity to again thank SIA Deputy Chair Marshall Betzel and Belinda Wilson as they step away from their SIA Board positions for their contribution over the past four years. Without them, we would not be where we are today.
"The calibre of candidates for the election of Directors was exceptional and I would like to thank everyone who applied. For such a young association we realise how fortunate we are to have such support and interest."