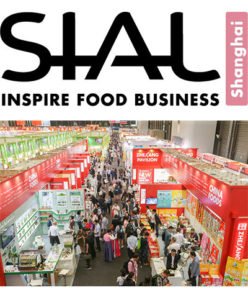 SIAL China, Asia's largest food and beverage exhibition – in cooperation with SIAL's trends and innovation partner, XTC World Innovation – has released the 2016 annual food innovations and trends analysis report.
Specific market insights from the report were discussed with local experts at seven SIAL China press conferences held recently across Asia, including South Korea, Taiwan, Japan, Vietnam, Thailand, Hong Kong and Indonesia. In 2016, innovations in health products and products for enjoyment were leading in Asia and worldwide. Innovations in product enjoyment were represented in more than one out of two food products, while health-focused products increased from 2015 and accounted for a third of the innovative offerings. This was shown to be largely driven by shifting consumer trends over the past decade.
In China, according to XTC data, product-enjoyment innovations accounted for 56.4 per cent, while health products represented 24.6 per cent; the top two trends compared favourably with physical, convenience and ethics in 2016. These trends have not gone unnoticed at SIAL China. SIAL Innovation, as one of the most popular professional events at the exhibition, last year attracted a record 353 participants and 193 exhibitor submissions. In total, 151 innovative products were selected by a jury, of which 10 were chosen to be finalists for their contribution to Asia's food-product innovation.
Trojka Drink, a sports drink developed by Isoline Trade, SRO, from the Czech Republic, was awarded the 2016 Gold Award.
Egnis Inc from South Korea was awarded the Silver Award for Lab Nosh, a nutritional meal.
Just Water International Ltd from New Zealand received the Bronze Award for its Elite Manuka Honey Water.
Each of these winning products was an example of the two top trends, bringing health and enjoyment to consumers through quality ingredients and product design.
"SIAL Innovation is the only international contest with a presence in the four corners of the world," President of SIAL China Jim Liu said. "The jury of food-industry experts recognises the most cutting-edge products in the industry, and past winners have benefitted from increased media exposure and the right to use the SIAL Awards logo in product marketing and promotional activities. At SIAL China 2016, Trojka Drink received significant visitor traffic and new business opportunities after winning the Gold Award. All winners benefit from the unique opportunity of travelling the world displaying their products within the 'World Champions Tour' area located at all the SIAL network shows held in Paris, Toronto and Montreal, Shanghai, Manila, Jakarta and Abu Dhabi."
For SIAL China 2017, SIAL Innovation will be on full display in Hall E3. For more information visit www.sialchina.com/events/sialinnovation.html.
SIAL China has announced Argentina as the Guest Country of Honour at this year's exhibition, scheduled from May 17-19, 2017, in Shanghai. This announcement recognises the increased commercial exchange in agribusiness between China and Argentina. As Country of Honour, Argentina's pavilions will cover more than 1200sqm, showcasing products that will receive increased exposure to professional Chinese and international visitors, as SIAL China continues to expand.
Following 2014 and 2015 presidential visits, Argentina and China agreed to strengthen bilateral ties by signing several agreements to boost agricultural-products trade. As a result, consumers in China have benefited from a significant increase in the supply of Argentina's outstanding-quality foods and beverages.
"China is the second largest export market for Argentine agricultural products, and we witnessed strong interest in Argentine products at SIAL China 2016," Mr Liu said. "As Guest Country of Honour, Argentine producers will have an elevated platform to showcase their products to professional guests from China and Asia-Pacific."
SIAL China had a total of 2,942 exhibitors and 76,986 visitors in 2016; more than half (56 per cent) of exhibitors were from outside mainland China. The top 10 nations represented at the exhibition were South Korea, the US, France, Brazil, Australia, Spain, Poland, Argentina, Turkey and Russia. South Korea, Russia, Thailand, the US, Australia, Malaysia, Japan, Singapore, Indonesia and Poland were the top 10 countries international visitors came from.
At SIAL China 2017, a total of 21 food sectors, including four dedicated zones in wine, meat, dairy and beverage, will be on display. Also, for the first time at SIAL China, cold-chain logistics will occupy one hall (W5) thanks to the increasing market needs and development of the Chinese cold-chain industry.
SIAL China 2017
17-19 May
Shanghai New International Expo Centre
www.sialchina.com