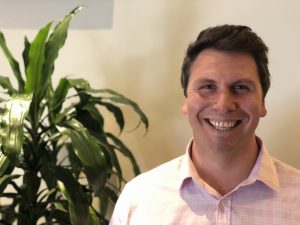 SMC Corporation Australia New Zealand (ANZ) will now undertake in the local assembly and stockholding of its latest range of electric cylinders.
Investing in the local economy and ensuring shortened lead times, this bold move will see a significant amount of stock being held at SMC's central warehouse in NSW. Furthermore, the company has its sights set on stocking up its Auckland warehouse in New Zealand later this year.
SMC Corporation ANZ Digital Transformation Manager Jozef Ceh explains, "We are currently bringing in AC electric cylinder systems and will have full range of options on hand. This includes cylinders, motors, drivers, cables, and other accessories. Soon thereafter, we will focus on bringing in DC systems."
Products will be backed up by the service that customers have come to expect from automation giant, SMC. "Our team is always on hand to assist with on-site and virtual assistance as well as technical queries. Having this large stock contingent on hand is ideal for shortening lead times and offers peace-of-mind in terms of spare parts and accessories.
"Particularly since the Covid-19 lockdown period, SMC has been known for our virtual support services. This continues to prove popular."
Offering greater flexibility, Mr Ceh says that customers will also stand to benefit from local upgrades. "For customers with complex and demanding applications, we can develop customised solutions quickly and efficiently."
More demand for electric cylinders locally
Electric cylinders continue to grow in popularity and local demand justifies the investment by SMC.
In addition to SMC's standard complete system offer, the motor less option of electric cylinders allow the customer further flexibility of using their preferred choice of servo motors to be mounted onto the cylinder. The series is currently compatible with 15 companies including Beckhoff, ANCA Motion, Omron, Rockwell, and Siemens to name but a few.
"Electric cylinders are best known for their precision, ease of use and flexibility. They're especially in demand as we see a rise in smart factories around the country," says Mr Ceh.
"We offer an electric cylinder to accommodate every application. Our range includes a high rigidity slider type (LEJ series), a rod type (LEY) and a guide rod type (LEYG).
"Important to note is the large bore capacity across all ranges as well as added functionality when using a complete SMC setup. Easy setup, plug and play systems, higher levels of functionality and standalone operations with or without a PLC makes for some of the key differentiating features of this sought-after range."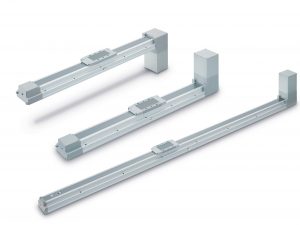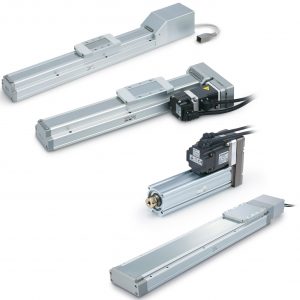 When to use an electric cylinder
"Where downtime is fast becoming a liability and scheduled maintenance downtime is proving taxing on production, repurposing machinery via software is fast becoming a key differentiator for machine builders. This shift has seen the demand for electric cylinder becoming a more logical choice."
Mr Ceh explains that some of the most successful projects are those with the careful and correct combination of electric and pneumatic cylinders. "In saying that it is important to understand that electric cylinders were not designed to replace pneumatic cylinders (or vice versa). They have been designed to be used in their respective applications.
"Typically, an electric cylinder is used in areas where a higher level of complexity is required, such as positioning accuracy, intermediate stops, a more sophisticated form of speed, acceleration, or force control."
The characteristics of electric cylinders have gained significant appeal over the years – largely due to the advancement of controls. "Here, specifications can be changed via software reconfiguration to achieve a high level of accuracy and repeatability without the need for any mechanical changes."
Electric cylinders on display at Foodtech Packtech 2021
Mr Ceh adds that SMC's comprehensive range will be on exhibit at this year's much-anticipated Foodtech Packtech, which takes place at the ASB Showgrounds in Auckland, New Zealand from 13-15 April 2021 (stand 2023).
"This is the ideal platform to get up-close with SMC's technology and to witness the quality for yourself."
To conclude, Mr Ceh says that the investment by SMC is a positive start to the year and is reassurance to its customers that the company is here for the long-haul. "We look forward to supporting new and existing customers in 2021."
To register for Foodtech Packtech 2021, visit foodtechpacktech.co.nz.
For more information, visit smcanz.com.