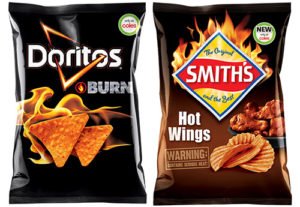 Smith's has answered consumer calls for additional hot and spicy flavour profiles with the launch of Smith's Hot Wings Chips and Doritos Burn Corn Chips return to the market.
"Aussies' tastes are continually evolving and the team of flavour experts at Smith's regularly evaluate these new flavour trends to ensure Smith's continues to be one of Australia's most loved brands," Smith's Senior Marketing Manager Sheri Juchau said. "We are thrilled to introduce the Smith's Hot Wings flavour, just in time for footy finals. Smith's Hot Wings chips pack a punch and are sure to become a favourite for spice lovers across Australia."
Meanwhile, Doritos is firing up fans with the return of Doritos Burn. The spicy chili-flavoured corn chips were originally released in 2011 and developed a loyal following of consumers who have regularly requested the product's return.
Smith's Hot Wings Chips (170g) and Doritos Burn (150g) will initially be available exclusively in Coles. A campaign across digital and social channels will support the launches alongside in-store and catalogue activity.