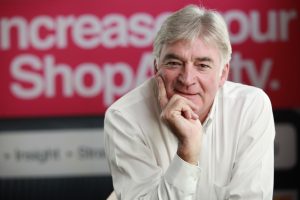 Generally better than we should be to be honest. Below are the June Retail Sales stats courtesy of UBS and the ABS, and they show some interesting results.
By ShopAbility Director Peter Huskins. 
We all knew that supermarkets have received one hell of a free kick with Covid, and here we can see by just how much. The good news is that specialty food has also grown as we all have rediscovered small fresh food businesses that have always been just around the corner, however, have been wallowing along as the chains took share.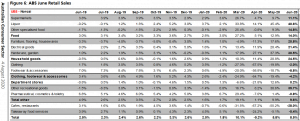 Foodservice has staged a bounce back of sorts as the restrictions were eased across most states and limited restaurant and café visits was permitted, however, this will again plunge as the Victorian lockdowns are forcibly implemented, and other states then start to follow suit in varying degrees as the infection rate increases.
The interesting one is takeaway which rebounded strongly in June after a torrid three months. The availability of home delivery services such as Uber Eats, and attractive meal occasion bundles have no doubt had a positive effect.
The 'four walls' psyche as households yearned for a meal prepared externally by someone else was a real phenomenon and helped support both foodservice segments. This type of positive change driven by the Covid restrictions meant that businesses had to pivot (gee I dislike that word) as they found solutions to growing their business that would previously have been unthinkable. Now they are real solutions that actually work and have provided some sort of hope for a sustainable future.
Household and recreational goods have performed strongly as shoppers and consumers look for unrestricted relief and release and some form of short-term respite from Covid.
And long may it last.
Finally, the discretionary retail segments of clothing and footwear have continued to decline as demand withers. Changing shopping behaviour driven by Covid safety concerns and subsequent reductions in visits to bricks and mortar stores including to shopping centres, and a reduction in the incidence of work related and/ or social entertaining has created much reduced demand. A steep rise in internet purchasing has not been enough to balance the declines experienced instore.
And long may it not last.
The future is totally uncertain. We can't predict the future based on past performance or previous behaviours.
The need for short term focus, short term flexibility without boundaries (pivot – that word again!) and the willingness to trial and test short term solutions will be what will ease us through the current crisis.
Welcome to new retail, and long may the flexibility and no boundaries philosophy last.
About Peter Huskins 
Peter Huskins is a career retailer who is widely known and respected in the Australian FMCG industry. With extensive experience in department stores, DDS, liquor, and supermarkets, he has been working with suppliers and retailers developing business, category, customer and channel strategy and competitive points of difference for more than 10 years.
Call Peter on 0412 574 793 or email peter@shop-ability.com.au.