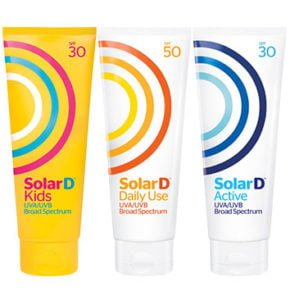 An Australian sunscreen has been developed with patented vitamin D-promoting technology, which is claimed to provide broad-spectrum sun protection while allowing passage of some of the UVB light that our bodies use to make vitamin D.
Solar D Sunscreen is promoted as offering UVA and UVB broad-spectrum coverage against sun spots, sunburn and skin cancer.
Solar D says the sunscreens, available in a lotion and spray, provide two hours' water resistance, making them ideal for the outdoor season ahead. It adds that, because the range is oil free and fragrance free, it is also gentle on sensitive skin and will suit the whole family.
"Solar D Sunscreen works by filtering the sun's harmful rays, while permitting the passage of a spectrum of sunlight that stimulates natural production of vitamin D in our skin," Solar D CEO Mathew Collett said.
The Solar D range comprises Solar D Active SPF 30, Solar D Daily Use SPF 50 and Solar D Kids SPF 30.