Australia's longest continually running grocery store has undergone many changes over the years, but the past six months have been the biggest so far.
By Hailey Settineri.
Husband and wife Bob and Judith Little have owned SPAR Maclean, on the NSW north coast, since 1980 – initially with Judith's parents, then taking full ownership in 1984.
The store itself has a history that stretches back a lot further. Originally named the Argyle Store, it was built & owned by John McLachlan in 1883. It has grown and changed names & hands several times since, but has always traded, making it Australia's longest continually running grocery store.
"It has quite a significant history, that's for sure," Bob Little said, adding that respecting and reflecting this history was a focus during the recent renovations.
"It's been a big issue to try and have a modern image, but we still have to make sure we have a certain amount of heritage attached to the building," he said. "If you're the longest continually running grocery store in Australia, people would expect to see something old when they come in.
"It was a very difficult situation, but we put a hell of a lot of thought into it and I think we've done pretty well." Maintaining the distinct pressed-metal roof is one way in which the Littles have shown respect for the site's heritage. Renovations over the past three decades have increased the store's size from 200sqm to 550sqm, and each time the original building has been extended, the Littles have opted to continue with the pressed metal roof, at considerable cost.
Original signage reflecting the store's past lines the walls, and Judith Little has compiled displays of old equipment and heritage pieces, which sit atop the fridges.
"We've used whatever we can that's 100 per cent local," Mr Little said.
Flowing across the store are photographs reflecting the progression of the building and the history of the area.
"It's like a bulkhead that goes over the deli and the fruit and veg, and it shows the history," Mr Little said. "We've also included the Aboriginal history in that as well. That's been very well received."
Service and offerings
The latest renovation has expanded SPAR Maclean to provide a larger shopping area, with less cluttered, more presentable fresh departments. The full-service deli has doubled in size and the produce department has also grown significantly.
The expansion has also allowed the store to offer a larger range of products in all departments. The addition of 400 lines takes its range to around 11,000 SKUs.
SPAR Maclean is a one-stop shop for locals and tourists alike. In addition to an extensive grocery range, customers can buy fishing licences and special-event tickets at the register. These offerings tie in with the store's 'above and beyond' philosophy.
Winner of the SPAR 2014 Customer Service Excellence Award, SPAR Maclean aims to provide a superb shopping experience for its customers. Its slogan 'We pack, we carry, we care' is emblazoned on the front of the store and the team do just that.
"We have tourists that come from Sydney and Brisbane on holidays and they're blown away that someone would actually offer to take their groceries out to the car for them," Mr Little said.
"Initially, when we tell them they can't take the trolley out of the store, they think we're being really mean. But then we say, 'No, one of the boys will take those groceries to the car for you'. Then they say, 'Wow! How can that be?'"
Offering high levels of customer service does not come easily or cheaply – SPAR Maclean has invested in providing more than adequate staff numbers for its size – but Mr Little says this is a worthy investment.
"One thing I've always prided myself on is having outstanding customer service," he said. "I don't think there are too many stores now that carry groceries out to the car. It's our point of difference and it's quite significant for us."
In addition to packing and carrying to the car, SPAR Maclean offers free home delivery.
Competition
Mr Little says SPAR Maclean is currently the only supermarket in town.
"Our main competition now comes from Yamba, which has a state-of-the-art Coles about 15 minutes away by road," Mr Little said. "And then in Grafton we have a Coles, Woolworths and an ALDI. That's about 35 minutes away, so it's not too far for people to travel.
"We do lose a considerable amount of volume that goes to either Grafton or Yamba, but we've tended to take a lot back off Yamba as we've done our renovations. I believe we do manage to keep a majority of people in the town."
There is currently a proposal to build an IGA store at Maclean, and Mr Little says the proposal has the town divided.
"They're not so much worried about the store coming to town, it's the location that they're putting it in," he said. "It's causing a massive drama and, unfortunately, the council hasn't handled it very well."
Preparing for future competition is one of the reasons behind SPAR Maclean's recent renovation.
Celebrations
The Littles celebrated the launch of their newly renovated store on February 28.
"We had a great day, a blinder of a day," Mr Little said. "Everyone in the town is talking about it and they really enjoyed it because it was probably one of the biggest celebrations we've had in Maclean for a hell of a long time."
In addition to a sausage sizzle and face painting for kids, SPAR Maclean provided entertainment inside the store with high-school students playing live music. The local radio station broadcast live from outside the store, creating a lively atmosphere, and the store gave away prizes throughout the day, including a 50-inch TV.
Maclean is known as 'The Scottish town in Australia' and is popular with tourists for its tartan-painted telegraph poles and annual 'highland gathering' over Easter. The Scottish culture was celebrated at the store's relaunch, with the Maclean Pipe Band performing.
"One of the highlights was when they actually walked through the store playing," Mr Little said of the band's performance. "They did a couple of laps of the shop and it was just fantastic.
"As you can imagine, bagpipes in a supermarket are rather loud. The customers that hated them had their fingers in their ears and the ones that loved them were dancing around and following them around."
Visiting Australia from Amsterdam, SPAR International CEO Gordon Campbell attended the store's launch event.
"The unique history of SPAR Maclean, combined with the way they epitomise the SPAR ideals, make this celebration one worth travelling for," he said.
Mr Little said it was an "absolute treat" to have Dr Campbell officially open the store.
"Maclean is a very small town in the scheme of things, especially when you're talking SPAR International and the types of stores Gordon has seen and been in," Mr Little said. "It's a real honour that he would make a real effort to come here."
What's in a name?
When the Littles first took ownership of the store, it was operating as a Four Square Store. In September 1984, the store changed its buying group to IG (Independent Grocers), mainly to present a different image to that of other Four Square Stores in the area.
The store then became known as Big River IG Supermarket, reflecting Maclean's location on the Clarence River.
In April 1988, in a major amalgamation of a large number of independent supermarkets, the IG name ceased to exist and Foodstore was created. The business was then known as Littles Foodstore.
The store joined a new buying group and began trading under the 5 Star banner in 1997. It has operated under SPAR branding since 2004.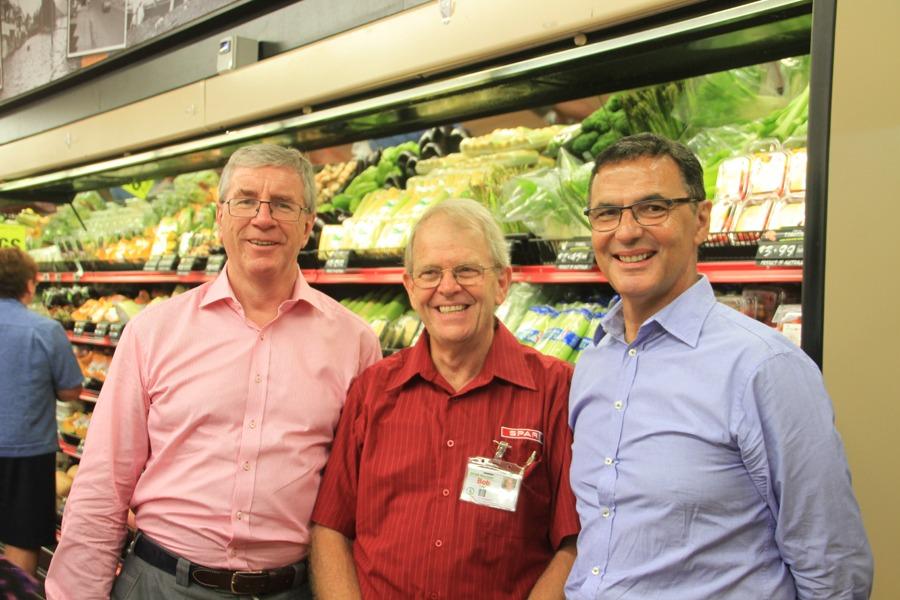 Dr Gordon Campbell, Bob Little and Lou Jardin. (L-R)