The new SPAR Redfern store, located opposite Redfern railway station, a key transport hub in Sydney's inner city, held its grand opening last weekend, promoting its convenience and variety offering to locals and commuters.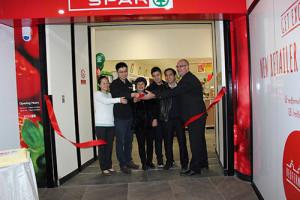 The 1,000sqm store is owned by Kevin and David Qin. This is the first SPAR store operated by the Qin family, who also run IGA stores in the Sydney suburbs of Putney and Abbotsford.
"Our goal is to bring a great supermarket into the heart of Redfern," Kevin Qin said. "We will provide the Redfern community with an alternative shopping experience to the chains and cater a range that is common as well as different."
SPAR Redfern has a strong fresh produce and grocery offering as well as an extensive range of frozen and shelf-stable Asian foods and snacks.
An unusual 'horseshoe' layout, in place before SPAR arrived, encourages shoppers to browse the full length of the store.
Grand opening promotions for SPAR Redfern were held last Saturday, following a soft opening several weeks earlier. The event included product tastings, samples, giveaways and "huge specials". A barbecue at the entrance to the store attracted plenty of attention from passers-by.
SPAR Redfern is on the second level of the Redfern Village centre, open 7-9pm Monday to Friday and 7-8pm on weekends.
Further details and images will appear in an upcoming edition of Retail World.