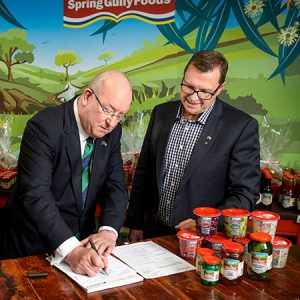 Four and a half years after entering voluntary administration, Adelaide's Spring Gully Foods has cleared the debts that almost forced the company to close its doors.
Final payments under the company's deed of company arrangement (DOCA) have been dispatched to unsecured creditors, completing the company's fightback from its near-death experience. Spring Gully has now repaid debtors 102 cents in the dollar.
The notice to discharge Spring Gully from DOCA was lodged with the Australian Securities and Investments Commission in December.
The family-owned company entered voluntary administration on April 12, 2013 with debts of more than $4.9 million following a sudden downturn in sales.
However, following an unprecedented public response that cleared supermarket shelves of its product, Spring Gully was able to trade its way out of trouble, even instituting a second shift to keep up with demand.
In July that year, it entered a DOCA, agreeing to repay its creditors in full while continuing normal day-to-day trade.
Spring Gully Managing Director Kevin Webb says it was a great relief to be through the most traumatic period in the company's history.
"It means Spring Gully can look to the future with confidence," he said, adding that with the repayment of the outstanding debts, Spring Gully would have extra funds to invest in business development.
"We are already looking at new products and have long-term plans to further modernise and expand our factory."
Spring Gully's Administrator, Austin Taylor of Meertens Chartered Accountants, says Spring Gully is a classic example of how voluntary administration can provide a safe harbour for companies facing financial difficulty.
"The termination of the DOCA is a testament to the resilience and determination of this remarkable family business," he said.
"It would have been easy for the families behind the business to give up, but they worked hard and once again are taking full control of their future."