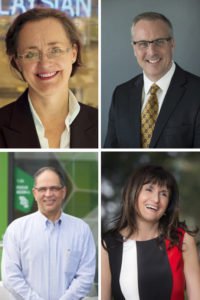 New businesses and startups at the 2017 Fine Food Australia will have the opportunity to pitch their ideas to the Lion's Den.
In a direct response to the growing need for entrepreneurs and small businesses with outstanding plans and ideas for the future, the Lion's Den has been introduced into the food industry.
Lion's Den members include: Food Industry Foresight Managing Director Sissel Rosengren; Nestlé Professional Business Executive Officer Scott Stuckmann; Unilever Managing Director Yezdi Daruwalla; and Food Innovation Australia Limited (FIAL) Managing Director Dr Mirjana Prica.
In a first for the industry, start-ups and entrepreneurs will be able to pitch their ideas to the panel and in turn receive advice, feedback and tips from these industry experts. Plus, the winning pitch will win entry into the FSAA Understanding Foodservice program. This two-day program is said to dissect trends, dynamics, size, structure and other essential information pertaining to the food-industry market.
"The Lions' Den is a great example of the platform that Fine Food Australia creates for those in the industry," Event Director Minnie Constan said. "We're committed to providing unique and valuable opportunities for businesses and entrepreneurs to engage with the food industry. The Lions' Den offers a special opportunity for emerging businesses to get feedback from some of the industry's leading experts on what it takes to succeed."
To apply for a spot in the Lions' Den:
By email, submit your business name, details of the product or concept you'd like to pitch, and a short paragraph explaining why you deserve a spot in the Den to jane@eviltwinpr.com.au.
Deadline for submissions is August 18.