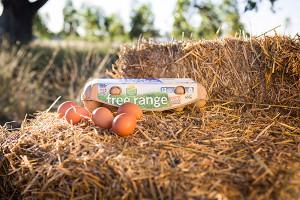 Australian owned egg brand Sunny Queen Farms has committed to outdoor density of no more than 1,500 hens per hectare at its free-range egg farms across the country.
A farmer-owned company for more than 40 years, Sunny Queen Farms claims to be the only major free-range brand whose farms restrict outdoor hen density to this figure.
"In essence, each Sunny Queen Farms free-range chook has more space outside than a king-size bed," Sunny Queen Australia Managing Director John O'Hara said.
The free-range egg market accounts for a 41 per cent share of eggs in Australian supermarkets, but Mr O'Hara says consumers may not be aware of what they are getting when they buy.
"There have been a lot of conflicting opinions around different densities and definitions for free range," he said. "Consumers want more clarity so they know what they're buying."
Mr O'Hara adds that consumers buying Sunny Queen Farms free-range eggs can be confident they are buying eggs that have been laid by chickens that have access to the outdoors for at least eight hours a day.
Consumers, he says, even have the ability to watch live webcam feeds of Sunny Queen egg farms, known as ChookTracker, to verify the claims.