TV cook and presenter Poh Ling Yeow will front 'SunRice to the Rescue' activation in more than 800 retailers across Australia.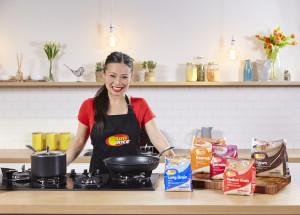 Ms Yeow's ambassadorship with SunRice to the Rescue will see her creating recipe ideas to help solve the everyday dilemma of 'what's for dinner?'
SunRice to the Rescue will be featured in more than 800 retailers across Australia this September (Woolworths) and November (IGA stores).
"We are delighted to partner with Poh," SunRice Head of Marketing and Innovation Nathan Low said. "She's a household name, shares our passion and love of rice and really gets what we're trying to do."
SunRice shopper insights reveal consumers are looking for quick, versatile meals to make at home. They want to be inspired and are keen to try new cuisines. Yet more and more people are time-poor, which is driving a need for 'achievable' inspiration.
"We launched the SunRice to the Rescue campaign to take away the stress of choosing what to eat for dinner every night," Mr Low said. "With only five key ingredients, three simple steps and in 20 minutes, everyone can recreate one of Poh's delicious meals.
"We've got everything consumers need to make meal planning easy, from video tutorials, recipe cards and a first-of-its-kind in-store display unit near the fresh department in stores, that holds nearly all the items you'll need. Above all, we are really excited to be working with Poh – she is the perfect fit for our brand."
Ms Yeow says she is "thrilled" to be joining the SunRice team.
"Rice is in my veins and SunRice is a company I've admired from afar for many years," she said. "We share the same values and desire to revolutionise mealtimes."
The SunRice to the Rescue campaign includes pre-store shopper integration, in-store amplification at Woolworths and IGA, SunRicetotherescue.com.au microsite, 'Share & Win' consumer promotion and PR and social media activations.