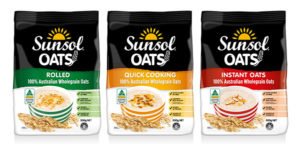 Cereal brand Sunsol is expanding its breakfast offering with the launch of new Sunsol Oats.
The range comprises Rolled Oats, Quick Cooking Oats and Instant Oats.
"Part of our growth strategy is to continually revamp the Sunsol brand and Sunsol Oats were a logical addition to the existing Natural Muesli range," Select Harvests Product Manager Suzanne van Leeuwen said. "These products are versatile and convenient options to start the day, especially ideal for creating a warming and healthy breakfast in the coming winter months."
The company says Sunsol Oats are a good source of fibre, protein and vitamin B1 and contain beta-glucan to help reduce cholesterol. It adds that, as part of a healthy diet low in saturated fat, 3g of beta-glucan is required each day to help lower cholesterol re-absorption.
Select says the new varieties also offer consumers a choice of three different textures – firm, medium and soft – as well as quick cooking times.
Available in 500g packs, the Sunsol Oats varieties have a 12-month shelf life (RRP $3.49).