Waverley Gardens Shopping Centre is set to undergo renovations in April 2021, with the introduction of its brand new Super Fresh precinct. Located in the east-wing of the centre, Super Fresh will become "one of the largest" fresh fruit and vegetable precincts in Melbourne's South East once construction is complete in October 2021.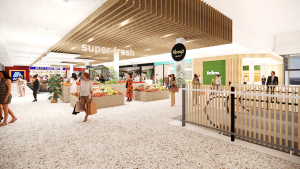 Waverley Gardens Shopping Centre Manager Belinda Donnelly said Super Fresh will offer something for everyone.
"Super Fresh will no doubt be an exciting and welcomed addition to the centre – we're proud of our diverse customer base and this new precinct will provide a vast array of fresh food options for all cultures and backgrounds. We can't wait for the community to experience it for themselves," Ms Donnelly said.
Waverley Gardens Shopping Centre is a culturally diverse hub that has become the go-to destination for families across the Mulgrave Shire due to its rich offering, community feel and prime location. Super Fresh will create an abundance of choice for its loyal customers. Anchored by prime services and the introduction of new stores including Henrys Mercato and Indian and Asian grocers, the new precinct will further highlight the centre's commitment to celebrating multiculturalism, diversity and supporting the local community with everyday shopping needs.
Elanor Investors Head of Retail, Development & Mixed Use, Matt Healy said: "We are extremely excited to begin Stage 1 of our much-anticipated Repositioning Strategy at Waverley Gardens. Our Investment thesis addresses the need to consolidate the centre's offer to a non-discretionary and service-focused asset anchored by all three major supermarkets (Woolworths, Coles and ALDI). This asset evolution will strengthen the existing fresh food offer by introducing more daily needs with medical, health and wellbeing uses."