Wallara Logistics is a third-party logistics company with a difference.
Based in south-east Melbourne, the non-profit hires people with different abilities to provide market-leading logistics and value-added service.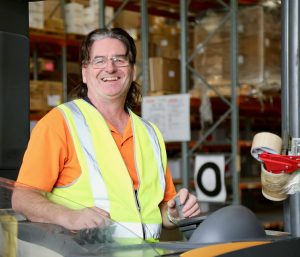 Thousands of its packaged products are delivered to Woolworths and Coles shelves across Australia.
What the company means to its employees
Con Kelly (pictured) is one of Wallara Logistics' longest serving employees. For 17 years he has been donning his uniform and reporting for duty. Even after all this time Mr Kelly says he still loves coming to work to learn new things.
"Supported employment is really good for me," he said.
"I've had mainstream jobs before and I wasn't treated that well and I found them really stressful.
"Here, everyone is treated with respect. Many people here have a disability, but we also have our own special abilities. That's what we focus on."
The company's 'valued' partners
Kao Australia, one of Wallara Logistics' biggest customers, is said to supply to 985 Woolworths and 823 Coles supermarkets nationally. Its leading brands John Frieda haircare products and Bioré pore strips are packaged by Con Kelly and the rest of the team.
Other commercial clients include Mary Kay Cosmetics, Visy packaging, Hawthorn Football Club, CPB Contractors, The Heat Group, Checkpoint Systems and Cristina Re Designs.
"Valued partners like these are attracted by a desire to make a positive social impact through their supply chains, but also because it makes commercial sense. We outperform on quality," Wallara Australia Acting CEO Taimi Clinch said.
"Our employees are extremely conscientious and love their work and it shows in the quality of the service we consistently deliver."
Celebrating 60 years
Victorian Premier Daniel Andrews recently unveiled the new state-of-the-art Wallara Logistics warehouse in the Melbourne suburb of Keysborough.
The upgraded facility has 20 per cent more floor space to accommodate customer growth. It has also allowed for added perks for Mr Kelly and his colleagues, including a sunny outdoor atrium to relax on breaks.
"For 60 proud years, Wallara has got stronger and better at giving opportunity to so many people and the most important thing is that the quality of the work that is done here is second to none," Mr Andrews told the crowd at the launch, which doubled as Wallara's 60th anniversary.
"No one produces a higher quality product or service than what Wallara Logistics does."