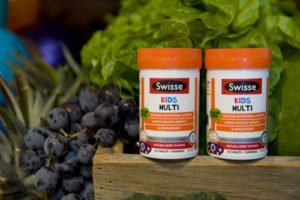 Natural health brand Swisse has launched a range of vitamins and supplements for children aged two to 12.
The no-added sugar range is a collection of five products the company says is especially developed for growing bodies. The Swisse Kids range comprises Multi, Fish Oil, Vitamin C + Zinc, Calcium + D3 and Probiotic.
The product was launched at the Three Blue Ducks pop-up restaurant in Roseberry, Sydney, featuring a cooking demonstration from head chef Mark Labrooy and MasterChef 2012 winner Andy Allen, entertainment for children and a presentation from Swisse Head of Technical innovation Antoinette-Louise Barnardo.
"Some parents may be concerned that their children are low on important vitamins and minerals, either because they're unable to eat certain foods due to medical conditions or are selective eaters," Ms Barnardo said.
"Incorporating a vitamin supplement will allow children to receive vital nutrients they may otherwise miss out on. We've created products that parents know they can trust are beneficial for their child, and are not full of sugar or other additives that children's vitamins are known to typically incorporate for taste."
Swisse says the chewable, tooth-friendly formations and popular flavours will appeal to children, while parents will welcome the absence of any artificial flavours. Swisse Kids is free from gluten and peanuts, and contains no added lactose, yeast or egg, making it suitable for special dietary needs.