Plant-based meat company v2food is "reinventing" summer BBQ season with the launch of v2sausages.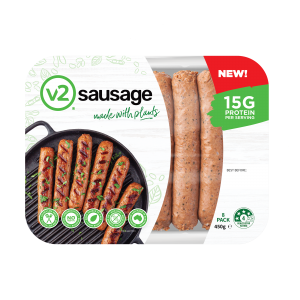 The new product follows the success of the company's v2mince and v2burgers, which launched in Coles, Woolworths, and Drakes Supermarkets last year. V2food also makes the Rebel Whopper for Hungry Jack's.
"Switch up your snags this summer and throw a v2sausage on the burner," says v2food founder and CEO Nick Hazell.
"Whether you're trying to cut back on meat to preserve the planet or you're just curious about plant-based meats, v2 is making it easy and accessible for Aussies to give it a go without missing out on the flavours they've come to know and love."
V2sausages are said to be "expertly crafted" with a mixture of soy protein, coconut oil, onion, garlic, thyme, and parsley.
For a limited time only, the product will be available at select Coles nationwide at $9 for a pack of eight.
Mr Hazell says v2sausages are a natural evolution for the company.
"Snags are synonymous with the Australian summer BBQ season and we wanted to serve up a new alternative for meat-lovers and plant-based enthusiasts alike," he says.
"We're on a mission to help consumers make a better choice, one sausage at a time, for their health and the health of the planet. Packed with protein and the goodness of plants, our snags are delicious enough to make the swap. We don't think you will tell the difference between ours and a beef sausage."