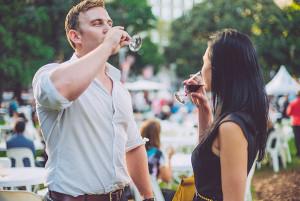 Wine and food lovers will get a chance to experience the best of NSW wine regions at this year's Sydney Morning Herald Cellar Door event.
More than 70 wineries from the Hunter Valley, Orange and Mudgee will set up cellar doors in Hyde Park to showcase their wines today, tomorrow and on Sunday (February 26-28).
Mudgee is represented with 16 wineries, including Burnbrae, Huntington Estate and Robert Stein Winery, while from Orange, Cumulus, Logan, Philip Shaw and Tamburlaine will be joined by 13 of their regional neighbours.
The Hunter will be showcased with 21 wineries, including Brokenwood, Mount Pleasant, Tempus Two and Tyrrell's, alongside a TAFE NSW and Pukara Estate food offering.
From outside of these regions, Sydney Cellar Door will also feature such winemakers as Moppity Vineyards from the Hilltop area, Warburn Estate from the Riverina, Warrumbungle Wines from the Northern Slopes and Vale Creek Wines of Bathurst, from the Central Ranges.
Visitors will have the opportunity to match the wines to gourmet produce with dishes from some of Sydney and NSW's most popular restaurants, including Porteño, Bloodwood and Oysters Unplugged.
Major event partner Castello will be bringing the best of wine and cheese together at the Castello Cheese Bar. Visitors are asked to bring a glass with their choice of wine to the bar, where staff will determine the best cheese and wine matching for their palate.
The event will also offer grape-squishing, picnicking, live music and sculptures.
Entry to the Sydney Morning Herald Cellar Door is free, with tasting packages starting at $25 available for prepurchase or from the token booth on the day.
For more information visit www.sydneycellardoor.com.au.
[vc_gallery type="image_grid" images="5502,5501″]