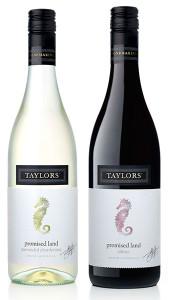 Taylors Wines has released four wines from the 2015 vintage of its Promised Land range.
Sourced from the Taylor family's Clare Valley estate and other South Australian wine regions, the new vintages include the 2015 Promised Land Cabernet Merlot, 2015 Promised Land Shiraz, 2015 Promised Land Riesling and 2015 Promised Land Unwooded Chardonnay.
Taylors Wines Managing Director Mitchell Taylor said the quality of the vintage was impressive.
"Our vintage report for 2015 saw many ups and downs throughout the season but, of these latest releases, the chardonnay and riesling are standouts and, of the reds, the shiraz is a highlight," he said.
The 2015 vintage is also sporting the brand's new label innovation to help consumers drink wine at its prime drinking temperature.
"Our Promised Land wines include the new optimum drinking temperature sensors, making it easy to ensure you're drinking the wine at the right temperature, whether outside at a barbecue or inside with friends over dinner," Mr Taylor said.
Launched in 2015, the new labels feature thermo-chromatic ink technology that changes colour depending on the temperature of the wine, turning green when the white wine is just right to pour, and fuchsia for the red wines.
The labels are now available on most Promised Land wines, with the entire range to feature the sensor this year.
The Taylors Promised Land range has an RRP $15.