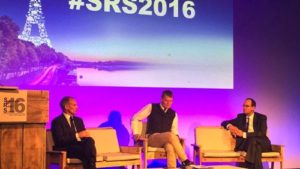 Tesco CEO Dave Lewis has addressed the first Consumer Goods Forum Sustainable Retail Summit in Paris, outlining some of the work the company has done on sustainability and what still needs to be done.
Mr Lewis said the company had set itself an ambitious goal: by the end of 2017 it would commit to preventing wastage of any food safe for human consumption.
So far, 776 of Tesco's large stores and 122 of its smaller-format locations donate their food waste to charities and community groups. This is the equivalent of 1.5 million meals. The company works with nearly 3,000 charities, 98 per cent of which would strongly endorse Tesco's sustainability program.
Mr Lewis presented some of the key criteria for improving sustainability in grocery retail.
Look to support local manufacturers who have the innovation and design capability to accelerate your production rather than paying inflated international prices for your machinery.
Read More
"Three years ago last week, Tesco became the first UK retailer to issue, in quite some detail, our food-waste footprint," he said. "We even took it down to individual categories. We measure individual items. We don't aggregate. Everything at the end of our store is measured and we know exactly what the weight is. We also know exactly what the composition is.
"What you see here is the near 60,000 tonnes that we declared last year and the breakdown of that category by category. We think it's important because it allows us to target our interventions very specifically with our suppliers in our own operation, and indeed with customers."
Mr Lewis emphasised that working in partnerships – whether with suppliers, charities or external auditors – was another key factor for sustainability success.
"From a manufacturing point of view, partnership in the supply chain is huge," he said. "There's been a huge amount of work going on in the Tesco supply chain to work with partners on the way they serve our business. We also have forged direct partnerships between suppliers and the FareShare organisation."
He concluded by urging retailers to review promotional policies that may increase food waste, and by reinforcing the importance of education.
"We also want to engage in education around household food waste," Mr Lewis said. "It's by far and away the biggest element in a developed market like the UK and we need to work together to do that."