It's the end of the shopping world as we know it. The COVID-19 crisis will entrench ecommerce as the most important retail channel.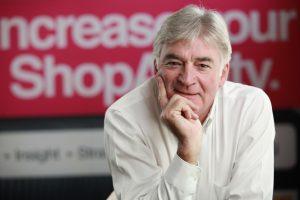 By ShopAbility Director Peter Huskins.

This year has begun completely differently to any other year in recorded history, with bushfires, floods, the coronavirus spread, personal and business lockdowns and global market meltdowns. We've had the lot, and to say 2020 so far has been 'challenging' is a complete understatement.
We're dealing with compounding issues that we've never had to deal with before. A one-off occurrence, yes, but steamrolled together and one after the other, no. This latest event will reshape society in lasting ways: in how and where we travel, how we buy homes, the level of security and surveillance we become accustomed to, and even to the language we use.
Every day, more and more people are beginning to work from home, which is at times distracting, stressful and inefficient, but it's forcing change and the evolvement of new principles and practices along with supporting technologies.
Consequently, we, as a country and as an industry, don't have the resources in place to immediately and efficiently provide the guidance and support required at every level of the community during these challenging times. No country or company has.
Pre-COVID-19, bricks and mortar retailers in general were struggling. Shopper frequency and spend rates were dropping, channel switch was accelerating and rents and other overheads such as power and water were hammering them harder still.
Look at how shoppers have reacted to buying toilet paper, canned vegetables, pasta, pharmacy products, face masks and other products. Many of these have been stockpiled for an unknown future that possibly has complete isolation as a reality. Possibly.
Supply chains have been smashed, stock levels obliterated, and forecasts are in disarray. Profitability requires careful management as sales are either buoyant or non-existent with little happening in the middle. Weekly specials have been pulled and any half-price deals are a distant memory as shoppers clamour to pay full price for products they previously waited until the next promotion to buy.
The escalating lockdown will no doubt be the death knell for many already struggling FMCG businesses as it hastens the changing face of retail. In fact, thousands of small to medium retailers are facing collapse as cashflow, overhead commitments and business planning issues take their toll. Doors being closed to aid social distancing may never reopen.
However, it's not just bricks and mortar retail that's changing. The global pandemic is also foisting change on the ecommerce sector. For starters, home shopping and click and collect buying have skyrocketed. More people than ever are downloading and using shopping apps.
This move to ecommerce is, like the closure of many small to medium retailers, just the speeding up of an existing and evolving trend, but one with far reaching consequences – one that retailers need to be looking at right now, even while in mid panic mode.
Of course, even as we languish at home waiting for the next news bulletin, we're still shopping – the shift to online which was creeping along is now reaching into every strata of society – and when this virus crisis is over, many of these converts to online, from getting their groceries to buying everything else, won't be going back to how they shopped before.
The safety and convenience of ecommerce has now become a reality for many people. It will become their main method of shopping. The face of ecommerce and mobile is changing with the change in our circumstances.
People will return to bricks and mortar retailing but not at the scale of pre-COVID-19. The oft mentioned entertainment value of shopping will come to the fore, with shopping centres and their retail tenants forced to evolve their models to accept the accelerated behaviour change that the virus has created. What would normally take five to 10 years to evolve, as different solutions are trialled and implemented in parallel with shopper and consumer demand, will be concertinaed into a few short months
Retailers generally need to take a long hard look at how they currently operate and start to envision a much-evolved model to suit their particular offer. Opening hours, staffing levels and requirements, offer, width and depth of range, size of store, location and adjacencies, pricing, marketing and engagement strategies and omnichannel presence should all come under the microscope during this lockdown period.
How retail will look after this crisis is still anyone's guess, but this is part of retail's never-ending challenge. However, you can start to shape this now, while working on how to cope with the current conditions in concert with where to go to next.
Shopper and consumer 'rules' will change and evolution will mean that many of the species will not survive. Will you?
About Information
Peter Huskins is a career retailer, widely known and respected in the Australian FMCG industry. A pioneer in shopper marketing, a passionate retail practitioner, speaker and trainer, he has been working with suppliers and retailers developing business, category, customer and channel strategy and competitive points of difference for more than 20 years. Call Peter on 0412 574793 or email: peter@shop-ability.com.au