The pandemic has presented the opportunity for critical appraisal of the best way ahead for your unique business.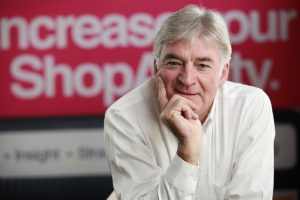 By ShopAbility Director Peter Huskins.

Our world is slowly waking from an enforced slumber. How long the full recovery will take, what the speed bumps look like and where we'll finally end up are anyone's guess. If I own my own retail business, how do I now manage this awakening and what are the big areas of focus that I need to consider before deciding to invest, in terms of people, money, time and other resources, into newly kickstarting my business?
There are no complete or specific answers here. Consistent with my previous articles, I'm trying to invoke some critical thinking about how the future may evolve. Stimulating some reflection on your business's prospects is a great consequence as each and every retail business is slightly different. No two are exactly the same.
Also, the world is made up of glass-half-full people or glass-half-empty people. Which are you?
I'm a half-full (to overflowing) type of person and if that's my normal disposition, that's where we'll go. If you're a half-empty person, that's fine: simply invert what I'm saying.
Adversity breeds character, ingenuity and opportunity, or so we're told. This 'pestilence' is going to have lasting effects on not just your retail business, but also on the industry and the drivers of the industry as a whole.
While it's impossible to say what the retail industry will look like in the aftermath of the pandemic, depending on where you sit, the changes that are both apparent and evolving could either be a half-full opportunity or a half-empty challenge
Short term vs long(er) term

You don't look at the horizon when sailing through a reef, and that's where we are today: in the middle of a bloody great reef.
We don't know what Christmas will look like this year. I have a few ideas, but they will most likely change and evolve as the community slowly awakens. There are too many moving pieces to accurately predict what will happen, but there are plenty of broad short-term trends and indicators out there that you should be looking at as immediate opportunities in terms of how to guide your business through this difficult time:
Digital and online opportunities (but watch the increased cost).
Locally focused shopping.
Bigger baskets and dollar spend.
Shopping less often.
Health and wellness.
Solutions.
Value versus just price.
Service – that old chestnut again, but so relevant in this spending climate.
Social distancing and how it may affect my business, especially food service and catering.
Cautious shoppers.
Cooking and entertaining at home, along with off-premise alcohol.
Home renovations.
Blended seasons for fashion as the new seasons' offshore ranges remain offshore.
What is right for your business may not be for your neighbour, but talk, read, listen, learn, trial and test your market with a short-term focus, yet still keeping that weather eye on the longer term.
Make the most of slow days

This pestilence has created the perfect opportunity to address some of the less urgent tasks we've all put off until now. With our shoppers being more cautious and the distancing rules still being strict, your sales generation approach may need refreshing.
Take the time to think hard about your business. Confront those 'too difficult' areas that you've previously held in abeyance.
Are my range and offer right?
Do I have too much stock and is it the right stock?
How do I efficiently optimise my stock?
How are my suppliers faring? Can they help in any way?
How is my competition reacting? Is it affecting me?
What can I learn from other retailers or other formats, even if these don't represent competition?
What can I learn from overseas?
Is my shop format and design relevant and current? Do I do a quick refresh?
Are my people good enough for what I'll need?
How do I evolve to be leaner and nimbler to quickly react to the short-term opportunities while being consistent with my longer-term goals?
How do I promote? Do I use price, solutions, themes or seasons? What formats and channels to market?
How do I best talk to my shoppers using the technology they use as the driver?
What other ways do I talk to my shoppers, as they're a diverse bunch?
Give yourself time to recover from the pandemic-driven dip in sales and get back to your regular sales volumes by critically thinking about re-creating and evolving your business to reflect the current trading environment.
Remember, you don't need to completely change your brand identity or business model to succeed, just to reconfirm 'what you want to be famous for'.
Watch your numbers

The pandemic has created more focus on the commercial viability of every retail business like never before. The weak have fallen, as they most likely would have anyway given time, so don't fret too much about them. The 'for lease' signs popping up in shopping centres and strips are testament to this. The strong have bunkered down and are taking this opportunity to tailor their business for whatever the new dawn brings.
The bellwether must be your numbers. They can be manipulated but cannot lie. Sales in dollars, and especially margin analysis, are critical: where am I making my money and where am I investing my money?
The following mix table is a simple tool that I use with some retail clients to answer that question. Do 40% of my sales only give me 20% of my gross profit dollars? Do 40% of my sales hold 60% of my stock on hand dollars and take up 70% of my space in-store? Is this sustainable? And your answer is …
| | | | | | | | | | |
| --- | --- | --- | --- | --- | --- | --- | --- | --- | --- |
| Category | Sales $ | Mix % | GP$ | GP% | Mix % | SOH $ | Mix % | Space | Mix % |
|   |   |   |   |   |   |   |   |   |   |
|   |   |   |   |   |   |   |   |   |   |
|   |   |   |   |   |   |   |   |   |   |
|   |   |   |   |   |   |   |   |   |   |
| TOTAL |   | 100% |   |   | 100% |   | 100% |   | 100% |
Keep in mind that this talks to revenue and margin creating drivers. What about the costs that I incur to create those sales for my business at that margin?
Wages are the second highest cost of doing business behind the cost of stock, rent is usually third, and the other costs fall away from there. When was the last time I really took a hard look at these and made some tough decisions?
In terms of wants versus needs, do I need to spend that money in that way with an unclear future?
Bounce back with confidence

COVID-19 has forced years of slow change into six to 12 months of controlled chaos. The future will not be the same as the past we've left behind. Santa will still arrive without fail on 25/12/20, but how we create the celebration of Christmas will be different.
So, plan ahead, but not too far. Have a preferred plan in place along with a couple of back-up alternatives just in case. Commit and invest to bring your plans to reality, but always be prepared to react quickly if your course needs to change by a few degrees.
Be confident that the future will be bright, and it will be.
Is your glass half full or half empty?
About Peter Huskins

Peter Huskins is a career retailer, widely known and respected in the Australian FMCG industry. A pioneer in shopper marketing, a passionate retail practitioner, speaker and trainer, he has been working with suppliers and retailers developing business, category, customer and channel strategy and competitive points of difference for more than 20 years. Call Peter on 0412 574793 or email: peter@shop-ability.com.au