SMC Corporation Australia New Zealand's (ANZ) comprehensive range of vacuum components is focused on compressed air efficiency. Rather than spending thousands of Dollars upgrading systems, SMC can optimise your current system by replacing the existing vacuum components with efficient, state-of-the-art vacuum solutions.
SMC Corporation ANZ State Manager for Victoria and South Australia Rodney Ryan. 
SMC has placed great emphasis on the design of its vacuum range and helps its customers select the best vacuum system for their application.
We analyse the current vacuum system and apply an integrated approach to energy efficiencies. We support our customers by analysing weak points in their existing system, assessing possible areas for energy savings, understanding the flow and pressure requirements and in optimising their selection of vacuum components. Education and training are central to the success of any system and this forms part and parcel.
Look to support local manufacturers who have the innovation and design capability to accelerate your production rather than paying inflated international prices for your machinery.
Read More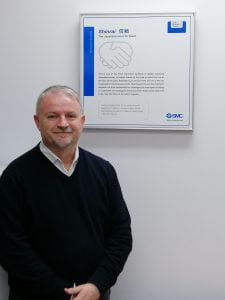 A recent success story
In a recent application, SMC worked with Australian machine builders, HMPS to develop an innovative, industry-first vacuum solution. The machine was custom built for a customer in Thailand who wanted to keep their old compressor but upgrade their line without any disruptions.
The machine is retrofitted with a vacuum head for the loading and off-loading pet food from a retort. While the specially engineered vacuum head used in this application is made up of standard SMC vacuum products, this solution has been engineered into a unique multi-functional and energy efficient vacuum design.
Vacuum best practices
SMC has identified a few important checkpoints to help customers get the most from their vacuum application. Here are 10 top checks when introducing vacuum into a plant:
Have you performed a leakage test to find leakage level, and the most suitable vacuum cup for your material style or shape of product?
Do you have the optimum suction flow and vacuum level?
Have you correctly identified acceleration forces for each movement: e-stops, pneumatic drives, electric drives?
Are the vacuum ejectors within the optimum supply pressure range to reduce air consumption?
Is the vacuum system sized for the worst-case scenario?
Check that tubing length between vacuum ejector and point of use is as short as possible
Check that the tubing diameter on the vacuum port is equal to, or bigger than the tubing diameter on the supply side.
Is a filter installed to protect vacuum ejectors?
If long lengths of tube are required, increase the diameter of the tube.
Have you installed a vacuum switch in your vacuum line to monitor/detect leaks?
SMC's vacuum heroes
ZK2-A vacuum ejector: An all-in-one energy saving solution, this vacuum ejector series offers a 90 per cent reduction in air consumption thanks to a digital pressure switch complete with an energy saving function designed to cut the air supply when the pressure reaches the desired vacuum. Thanks to its self-holding, dual port 2 valve, even if there is a power cut, vacuum is maintained for as long as there is air supply. It is more compact and offers a 50 per cent increase in the suction flow (compared to other SMC single stage ejectors).
ZP2V vacuum saving valve: This is used when multiple vacuum pads are operated by a single vacuum generator and some of them do not have a good hold on the work piece. This ensures that the work piece is held in place by the rest of the pads while vacuum pressure is restricted to those not in operation for enhanced energy savings, while the spring-loaded mechanism allows the vacuum saving valve to work in any position."
ZH-A vacuum generators: This series is compact, lightweight and is available as either a box type or a body ported type, each of them now available in a manifold configuration. Over the years, we have further developed this product so that it is smaller, makes less noise and is more flexible to mount.
ZL2/3 multistage ejector: SMC has renewed its multistage ejector range with the, ZL1/ZL3/ZL6 series, in response to weight reduction demand that comes from the growing use of robotics. This addition to SMC's vacuum range meets the suction flow requirements for workpieces with high levels of leakage, while also delivering energy efficiencies. This series offers a high efficiency multistage ejector series that is compact and lightweight in design but big in terms of suction power."
The three-stage diffuser construction design of the ZL1/ZL3/ZL6 delivers an increased suction flow rate of 250 per cent when compared to a one stage model. Furthermore, the release of the ZL3 and ZL6 comes along with an increase in maximum suction flow rate of up to 600 l/min.
 ZU-A in-line vacuum generator: This compact and light-weight solution installs close to the vacuum pad in order to prevent absorption failures from the vacuum source and can reach pressures of up to -90kPA.
Finally, it is important to note that the best testing laboratory is in the environment in which the pads are currently being used, SMC offers vacuum testing to customers to enable them to find the perfect vacuum solution for their application setting us apart from competitors and ensuring that our products are of the highest possible quality.
 About SMC
Founded over 60 years ago, SMC operates in 83 countries, employing 19,000 people across the globe. It has an R&D engineering team of 1,450 and an 8,200-strong sales force, who are experts in their field and enjoy a close working relationship with SMC's customers. To deliver automation solutions for its diverse customer base, SMC offers more than 12,000 basic products with over 700,000 variations. SMC is the world's leading pneumatics provider and has been voted for three consecutive years as one of the most innovative global companies by leading business magazine, Forbes and is listed in the FORBES Global 2000 as one of the world's largest public companies.
For more information visit smcanz.com.
For sales inquiries contact AUsales@smcanz.com or NZsales@smcanz.com.
For editorial inquiries contact Rene Rose rrose@positiv.co.com or M +61 474 476344.