"Favoured by chefs, rice aficionados, and home cooks for over 50 years, global rice leader Tilda" adds two all-new flavours to its Australian roster of 'ready-to-heat' varieties.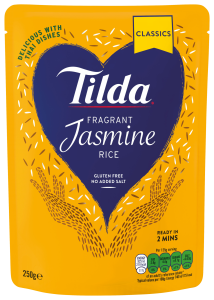 The new flavours are a welcome addition to Tilda's range, and include a Firecracker Basmati Rice for those looking for a spice hit as well as Fragrant Jasmine Rice which suits the traditional Asian flavour lovers.
Tilda's Firecracker Basmati rice is sure to bring the heat to any meal. This new flavour blends steamed grains of Tilda Basmati Rice with natural ingredients such as chilli, ginger, Szechuan pepper, soy sauce and garlic to give it a fiery taste.
Tilda's Fragrant Jasmine Rice is ideal for use in South Asian inspired dishes, think a Thai green coconut curry or a hot and spicy pork dish. Better yet, this versatile rice can see you through to dessert as well, being an excellent base for a rice pudding.
Tilda has a host of recipes and further product information available on its website.
Tilda's ready-to-heat flavours are said to be gluten free, vegan and vegetarian friendly, and dairy free. Available at Woolworths and independent supermarkets for $3.40 a pouch.