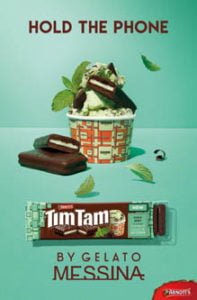 Arnott's Tim Tam will next week launch a new range featuring gelato-inspired flavours through collaboration with Gelato Messina.
The new range will be on supermarket shelves from Monday (February 6) and comprises Choc Mint, Salted Caramel & Vanilla, Coconut & Lychee and Black Forest.
"It was a new challenge for us – making a gelato is one thing and making a biscuit that tastes like that gelato is another," Gelato Messina co-founder Declan Lee said.
Messina's team spent hours at Tim Tam's western Sydney base, working with food technicians and tasting gelato in order to create the biscuit version of its signature scoops.
"We were drawn to the guys from Messina because of their uncompromising commitment to flavours," Arnott's Global Communications Manager Nicky Thomson said. "We're happy to say this shines through in the biscuits, which taste as good as they sound."