Love to cook? Love a punchy flavour? Barker's New Zealand Passionfruit Curd, is a premium curd that has been crafted to create strong, sweet and tangy flavours.
Produced by Barker's original family farm at the foothills of the Southern Alps New Zealand, this Passionfruit Curd is made with New Zealand butter and eggs, creating a luscious and creamy alternative to jam.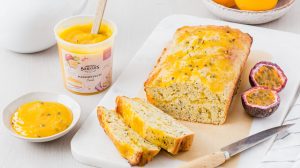 This product is ideal to add to a healthy breakfast, a mouth-watering dessert or a simple cheeky snack – the Passionfruit Curd can turn a plate into something extraordinary.
"The sweet tang of fresh passionfruit is an Aussie favourite," says Head Baker at Barker's New Zealand, Clinton Squibb.
SMC Corporation Australia New Zealand's (ANZ) comprehensive range of vacuum components is focused on compressed air efficiency. Rather than spending thousands of Dollars upgrading systems, SMC can optimise your current system by replacing the existing vacuum components with efficient, state-of-the-art vacuum solutions.
Read More
"As an extension of the Barker's New Zealand Curd range, the newly released Passionfruit flavour offers a fruity and refreshing taste with a touch of the tropics. Perfect for the home baker to use as a filling for muffins, cakes or delicious homemade donuts.
"Curd is also a perfect topper for cheesecakes, pavlovas or meringue nests. It's also my wife's go-to for an easy late-night sweet treat by simply dolloping atop a sneaky bowl of frozen yoghurt or ice cream," says Mr Squibb.
Recipes from Barker's New Zealand team include:  
Passionfruit Curd Teacake
Passionfruit Eton Mess
Passionfruit Curd Tarts
Passionfruit Curd Meringue Cake
Passionfruit Curd Ice Cream
Barker's New Zealand Passionfruit Curd is gluten free and contains no artificial colours or flavours or added preservatives. It is available from Woolworths supermarkets from 25 May 2020 in a 400g recyclable plastic tub for RRP $5.00.
For Barker's New Zealand recipes and to shop online, please visit barkers.com.au