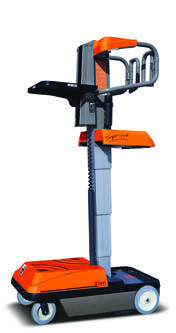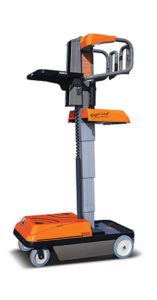 Toyota Material Handling Australia (TMHA) has launched a new range of versatile elevated work platforms (EWPs) made by Italian company Bravi Platforms.
TMHA is distributing six models of Bravi platforms and expects the three most popular will be the Sprint, with a 90kg material load capacity and maximum platform height of 3,350mm; the Leonardo HD, with 180kg platform capacity and platform height of 2,900mm; and the Lui 460, featuring a 280kg platform capacity and maximum platform height of 4,620mm.
The Bravi Sprint is expected to be the volume seller and is aimed at large retailers that need a fast and agile EWP solution in warehouses and on the shop floor.
TMHA National Brand Manager Bob Walmsley says the Bravi sprint has  features that set it apart from other products currently available.
"Unlike its competitors, it has a single mast which is operated via an integral hydraulic cylinder," he said. "This removes the need for chains and linkages with fewer moving parts and no need for regular lubrication and maintenance.
"Another unique feature of the Sprint is that its load platform can be raised or lowered by the operator via an electric motor. This adjustment has to be done manually on competitors' similar products, which means taking the load off the platform before manually tilting and adjusting it – that's a huge inconvenience when you're in an elevated position."
At TMHA's request, Bravi made a number of other changes to the standard specification to suit the local market. These include a safety feature to cut the hydraulic lifting system if the interlocking gate is not closed correctly, an operator platform service lock, and a recess added to the cover to enable it to be used for storage.
Other features of the Bravi Sprint include a high-capacity, maintenance-free battery that can provide up to 30km travel with a single charge and six-monthly service intervals.