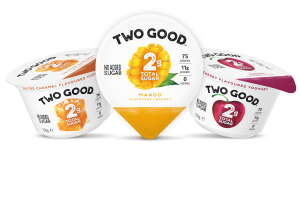 Some things aren't too good to be true though!
Danone is introducing its new low-sugar yoghurt innovation, Two Good to the Australian market.
Two Good has 70% less sugar than the average yoghurt. This is achieved by utilising a product development process to remove sugar from milk, leaving each yoghurt cup with only 2 grams of naturally occurring sugar
"Simplicity is the key to well-being and living a balanced life should be easy," says Danone's Head of Marketing and Research Innovation, Bianca Carbonell.
Look to support local manufacturers who have the innovation and design capability to accelerate your production rather than paying inflated international prices for your machinery.
Read More
The new yoghurt servings offer 0g added sugar, 0g artificial sweeteners, 0g preservatives and only 2g of total natural sugar and fat, 11g of protein and just 75-76 calories per cup, depending on the flavour.
"Millennials and Gen-Z are moving towards a simple balanced approach to food over fad diets, seeking nutritious foods that benefit their wellbeing," explained Ms Carbonell.
"Our aim is to empower consumers to sustain a balanced simple lifestyle without having to compromise on taste. Thanks to our new innovative milk processing, we are bringing to consumers a unique yoghurt with low sugar, no nasties and still delivering on great taste."
Two Good yoghurt is available now at Coles supermarkets, located in the refrigerated section.