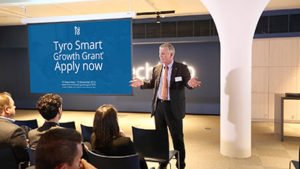 Australian small businesses in the retail sector could receive up to $25,000 each for increasing business efficiencies and sharing innovative ideas on how to boost business growth.
The Tyro Smart Growth Grant program, will see up to 10 small to medium-sized businesses (SMEs), including retail businesses, receive grants worth a total of up to $250,000.
Tyro CEO Jost Stollmann said the grants program was timely for retail SME owners, many of whom continue to battle every day just to stay open, let alone innovate and grow.
"Our research tells us that inefficient business banking processes cost small businesses, on average, $7,800 per year, or almost $7 billion nationally," he said.
"The Tyro Smart Growth Grant program will help SME owners in two ways: it will encourage them to introduce new business efficiencies to boost their growth, and it will generate new ideas from the community that will get us closer to closing the SME efficiency gap."
The grants program announcement was made on Wednesday at the Tyro nextGen Business Banking Summit, which brings business software and service providers together with Fintech startups to discuss the efficiency benefits of frictionless mobile banking technology.
At the summit Mr Stollmann revealed his vision for nextGen banking: cloud-based, totally integrated and mobile banking that encompasses eftpos, payments and cashflow-based unsecured growth funding.
"Ensuring these businesses have access to cashflow-based lending and efficient solutions that allow them to invest, innovate and grow, is absolutely critical to sustain the engine room of the Australian economy," he said.