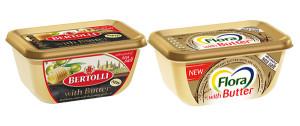 Unilever has added two new products to its flagship Flora and Bertolli brands after what it claims has been a successful international launch.
Flora with Butter and Bertolli with Butter were initially launched in 18 overseas markets, including the UK and Germany, and are now available in Australia.
Unilever says the products, which will be available in two variants – with Pinch of Sea Salt and Reduced Salt – meet the changing tastes and preferences of consumers and combine the goodness of Bertolli or Flora margarine with the taste of butter.
"Our heritage with our margarine brands like Flora and Flora pro-activ continues to be at the heart of our business and we will continue to support our flagship brands," said Katja Thies, Marketing Director Foods – Spreads and Savoury, at Unilever ANZ. "However, we realised there was a gap in the market to provide for consumers who enjoy the taste of butter but want the spreadability of margarine.
Look to support local manufacturers who have the innovation and design capability to accelerate your production rather than paying inflated international prices for your machinery.
Read More
"We've seen great success overseas. In Germany, which is similar to the Australian market in terms of product, 25 per cent of the purchase volume came from new users each month, demonstrating that people are excited to try the new blend and that there is opportunity to grow our brand loyalty.
"Overall, the German market had a 10.8 per cent penetration rate and 43 per cent repeat rate after one year, which is an excellent result. We anticipate that the Australian market will see trade-up of existing users who are loyal to our margarine brands, but we also anticipate new users will come on board."
Flora with Butter has an RRP of $4.29 per 400g tub.