US-based Rogue Creamery's organic blue cheese has taken top prize as the World's Best Cheese at the 2019 World Cheese Awards in Bergamo, Italy.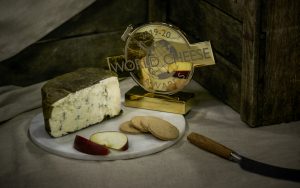 This makes Rogue River Blue the first American champion after expert judges from around the world congregated on Friday to taste 3,804 cheese entries from 42 different countries.
The cheese was championed on the International Super Jury by Brazilian judge, Bruno Cabral, who described Rogue River Blue as a "taste party", applauding its "different sensations, balance, sweet and spicy notes".
Made annually with organic cow's milk from Southern Oregon's Rogue Valley, the winning cheese is cave-aged for nine to 11 months and hand-wrapped in organic Syrah grape leaves that have been soaked in pear liqueur.
Look to support local manufacturers who have the innovation and design capability to accelerate your production rather than paying inflated international prices for your machinery.
Read More
Close tie with Italian Parmigiano-Reggiano
Receiving 100 points at this year's judging, Rogue River Blue competed for the prize with an Italian Parmigiano-Reggiano. A tie-breaking vote saw Rogue River Blue prevail as the ultimate winner.
Taking place in Italy for the first time in its 32-year history, the largest cheese-only competition on the planet was hosted by Bergamo's annual FORME cheese festival and a new dairy trade show, B2Cheese.
The international cheese community gathered at Fiera di Bergamo to judge entries from every corner of the globe, culminating in a final 16 which featured cheeses from the USA, Italy, Spain, the Netherlands, Japan, Switzerland, France and the UK.
John Farrand, Managing Director of the Guild of Fine Food, organisers of the World Cheese Awards, commented: "This year's top prize was almost too close to call and I would like to congratulate both Rogue Creamery and Nazionale del Parmigiano Reggiano Latteria Sociale Santo Stefano for going the distance and providing us with one of the most dramatic finales in World Cheese history."