A shopping centre in Victoria is helping to break down the barriers experienced by those who are blind or visually impaired.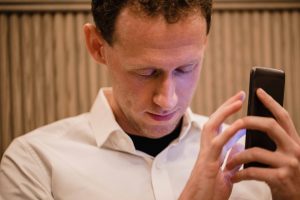 Making mobility safer and easier for all, Barkly Square Shopping Centre has recently introduced new technology system, BindiMaps.
Using Bluetooth beacons that have been installed throughout Barkly Square, the BindiMaps radio transmitters interact with smartphones to give helpful voice commands, identifying the easiest pathways to stores, elevators and bathrooms.
Community engagement, equality and fairness
It's a partnership that Mladen Jovanovic, Chief Operating Officer of BindiMaps, is proud to see come to life.
"Before BindiMaps, if you are blind or vision impaired, accessing the local shopping centre required significant help from family, friends or loved ones," he said.
"It is an honour for all of us at BindiMaps to be able to add another layer of convenience and remove barriers to accessibility for the entire community.
"Community engagement, equality and fairness is exactly what is at the core of our existence and having Barkly Square as our first Victorian installation is a key milestone in making Melbourne accessible."
The importance of technology  
Vision Australia estimates that there are currently around 384,000 Australians who live with blindness or low vision. Of these, 37,000 are blind and 347,000 have low vision.
David Woodbridge, Access Technology Adviser at Vision Australia is blind. With experience using BindiMaps himself, he said: "For people who are blind or have low vision, technology can have a huge impact on their lives.
"Locations like shopping centres can be challenging and apps like BindiMaps can play an important part in allowing people who are blind or have low vision to independently access and navigate them in the same manner as anyone else.
"As a person who is blind, it's always pleasing when organisations take steps to improve accessibility, and developments like BindiMaps show it can be achieved with minimal disruption."
BindiMaps isn't just for people with disabilities, though. Anyone with a smartphone can access the app which will direct them to the closest toilet or help them find the store they're looking for.