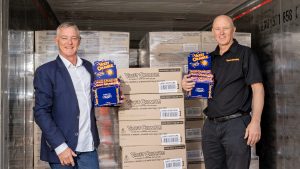 Violet Crumble is celebrating one year of production back in Australia.
Last year, the iconic chocolate bar was acquired from Nestlé by Adelaide-based family-owned company, Robern Menz.
Violet Crumble, according to Robern Menz, has seen a 50 per cent increase in sales.  This is attributed to an expansion into the US, as well as the launch of new formats: Bag, Nuggets, a Dark Bar and a Golden Gaytime.
New distribution channels have also been secured throughout Australia. More Violet Crumbles are now on shelves in petrol and convenience, independent retailers and the big supermarkets.
Local employment
A notable achievement for the Robern Menz team, says the company, is employment growth of 40 per cent in the last twelve months to meet production demand of Violet Crumble and to fuel further expansion.
Earlier in 2019, the company announced its acquisition of the Polly Waffle brand from Nestlé. Robern Menz anticipates further growth of staff members ahead of its launch.
'Custodians' of Violet Crumble  
Robern Menz CEO Phil Sims,says becoming custodians of a special Australian brand is a huge honour. He's thrilled with what's been achieved with Violet Crumble over the past year.
"We are very thankful to our valued customers for their support of Violet Crumble and to our dedicated employees," he said.
"Introducing a number of new versions for people to enjoy, as well as growth internationally, has been so exciting for the whole team.
"What matters the most, though, as a fourth-generation, family-owned South Australian company, is that we are in a position to create job opportunities for Australians, and be champions for nostalgic, much loved confectionery products that have a special place in people's hearts.
"As we head into our second year, we are on a sustained growth trajectory, and in 2021, we'll begin exporting to a number of new markets internationally. We're continuing to fly the flag for Brand Australia, with Violet Crumble on sale in numerous markets including Hong Kong, Singapore, India, Malaysia and the UK."