Asembl has secured the first ever apparel partnership for Violet Crumble, with Peter Alexander creating a new range of sleepwear.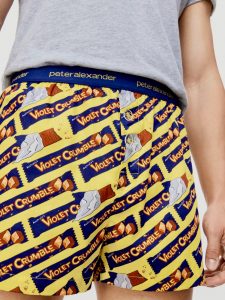 Now in store and online at Peter Alexander, the Violet Crumble range is part of the Pyjama King's Dream Christmas collection. The range features an oversized women's tee, ladies pyjama shorts and boxer short for men.
Menz National Marketing & Licensing Manager Polly Love says this collaboration is the company's dream partnership.
"We're so excited to reveal another way Australians can share their love of the iconic Violet Crumble," she says.
Asembl Managing Director Justin Watson says Asembl is thrilled to be continuing to extend Violet Crumble's presence outside of the confectionery aisle.
"A truly sweet partnership between Menz Violet Crumble and Peter Alexander, fans of Violet Crumble can now look earth-shatteringly delicious in their sleepwear," he says.