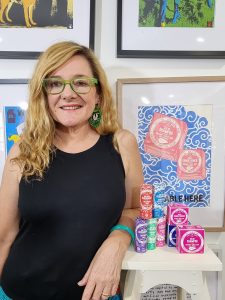 Sustainability even in the beauty category is expanding significantly, due to consumer demand.
This will be a trend that's explored at B2B event, 2021 Naturally Good Expo from 30-31 May at Sydney's ICC.
It will include Weleda's millet, wheat and oat shampoos and conditioners, Herbatint's ammonia-free vegetal hair dye range and Dr. Bronner's organic hair care range.
Additionally, Viva La Body will be a key exhibitor featuring their extensive range of solid shampoo bars and conditioners.
The Darwin-based business began more than 20 years ago, by founder and director Jo Srbinovski and her husband, Micko.
Viva La Body & sustainability
The products use compostable paper wrapped and lack plastic packaging.
"Solid bars have been a real star performer in hair care as one bar is equal in usage to three bottles of liquid product," Ms Srbinovski says.
"Standard liquid hair care is made up of 80% water as a filler ingredient, but we have created a product where you add the water yourself and the bar does the rest."
Ms Srbinovski continues by explaining that the products are salon quality, with less plastic packaging.
"We offer an extensive range suitable for all hair types and each bar is pH balanced, certified palm oil free, certified cruelty free and vegan. We get great feedback from customers who say they love the ease of use and longevity.
"They also say it leaves their hair feeling soft and nourished just as well as any liquid."
Popularity in online shopping through Covid-19, only boosted the public's interest in their products, say Ms Srbinovski.
"Hair-care wise our Creamy Curls Shampoo and Conditioner combination is our best seller, however our entire range including their Natural Deodorant and Solid Facial Care products sell strongly as well."
The business currently works with independent natural health and beauty retailers, as well as Flora and Fauna, Biome Eco Stores and Nourished Life.