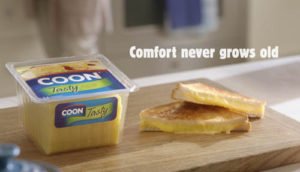 Warnambool Cheese and Butter says its new advertising campaign for Coon cheese is focused on celebrating the brand's heritage and popularity among Australians in everyday life.
The campaign, across television, print and digital platforms, features a TVC in which a family passes on the tradition of Coon cheese 'toasties' over several decades, accompanied by the tagline 'Comfort never grows old'.
The campaign is the first in more than three years and the first since the acquisition of Coon cheese by WCB from Lion Drink and Dairy.
"For the past 81 years, Coon cheese has been enjoyed by Australian families and is a staple of everyday life," WBC GM Marketing Ted Lawson said. "We hope the TVC reminds Australians of their childhood, growing up with Coon cheese and the pleasure and comfort of enjoying a cheese toastie with family. This a tradition we want to continue."