My Medical Supply has released an innovative product in response to the current demand for face masks.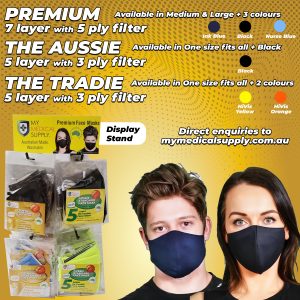 All masks include a soft 100% cotton inner layer. The Premium mask comes in seven layers with a five-layer filter. The Aussie and the Tradie come in five layers with a three-layer filter.
The range of Australian made re-useable washable masks come in in eye-catching packaging and include free display stands.
The RRP for the Premium face mask is $24.99, the Aussie is $18.99, and the Tradie is $19.99.
For more information, contact My Medical Supply General Manager Bill Leane on 0492 859 594 or visit mymedicalsupply.com.au