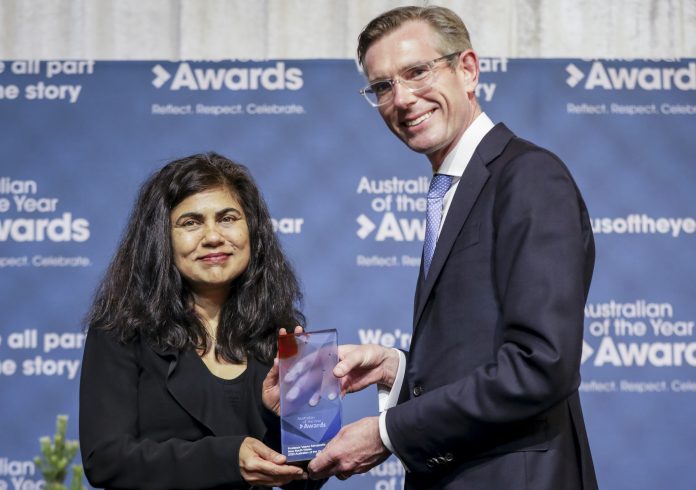 Waste research scientist Professor Veena Sahajwalla has been named the 2022 NSW Australian of the Year.
NSW Premier Dominic Perrottet presented the award to the Australian Research Council laureate at a ceremony at Sydney's Luna Park on Monday night.
Ms Sahajwalla is renowned for pioneering the high temperature transformation of waste in the production of a new generation of green materials.
She is the founding Director of UNSW's Centre for Sustainable Materials Research and Technology, and also heads the new ARC Microrecycling Research Hub and the Australian government's new National Environmental Science Program's Sustainable Communities and Waste Hub.
In 2018, Ms Sahajwalla launched the world's first e-waste microfactory.
The following year, she launched a plastics microfactory, described as a "recycling technology breakthrough".
Ms Sahajwalla says it's such a privilege to receive this award, and to live, work and have a family in Australia.
"This means so much to me and is a reflection on the wonderful people I've had around me," she says.
"I am so passionate about my work and team at the UNSW SMaRT Centre, where we have been pioneering the science of microrecycling and developing new 'waste to product' technologies.
"Promoting STEM [science, technology, engineering and maths] and greater sustainability continues to be extremely important to me.
"And as I engage with many people every day, I see these issues are generating a community and industry groundswell that we should embrace to help our society collectively tackle the challenges we face, to improve our environmental, social and economic wellbeing."
UNSW Deputy Vice-Chancellor Research and Enterprise Professor Nicholas Fisk congratulates Ms Sahajwalla.
"Professionally, Veena is renowned internationally as a trailblazer in the field of recycling science, partnering with industry to drive her research through to real-world environmental and economic benefits," he says. "Personally, she is a charismatic, visionary tour de force, which underpins this well-deserved accolade.
"Her approach has enabled the transformation of many of the world's most challenging waste streams ­– like e-waste, automotive waste and batteries – into value-added materials that can be circled back into manufacturing. Her unique microfactory model enables local communities to produce many of the products and materials they need locally, using resources largely derived from waste."