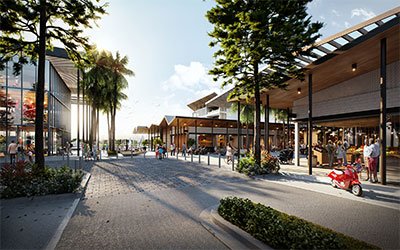 The shopping precinct at Shell Cove on the NSW south coast will comprise a 3,800sqm full-line Woolworths supermarket, complemented by nine specialty retailers.
Shellharbour City Council and Frasers Property Australia say the shopping precinct is the first stage of the town centre, intended to service the idyllic Shell Cove community.
The second stage of the town centre, currently in the design phase, is a mixed-use dining precinct that will include three storeys of apartments above restaurants and cafes.
Shellharbour Mayor Marianne Saliba says the supermarket and retail space will be a lively hub for the new community, creating jobs and boosting the local economy.
Look to support local manufacturers who have the innovation and design capability to accelerate your production rather than paying inflated international prices for your machinery.
Read More
"Securing Woolworths as the anchor tenant for Shell Cove is excellent news for residents and our local economy," Ms Saliba said.
"Having a retailer with as much drawing power as Woolworths will help attract other businesses to the area, and goes to show just how far along we are in the process of creating this new community."
Woolworths Regional Property Manager Colin Graham says he is looking forward to bringing one of Australia's most modern supermarkets to the area.
"Local residents in Shellharbour will soon have access to a modern full-range Woolworths supermarket with all the usual features our customers have come to expect, including an extensive fresh-fruit and vegetable section, a full production bakery on-site, a great deli offer, a wide choice of healthy options, and a huge range of grocery items at great prices," Mr Graham said.
"The Shellharbour area is growing fast, and we look forward to working alongside Frasers Property and Shellharbour City Council and the community to deliver this long-awaited retail development."