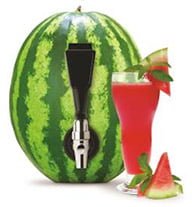 Wine and beverage accessory company Winex is tapping into the potential of the watermelon by introducing an innovative product with which users can turn ordinary fruit into a drink dispenser.
Winex Managing Director Matt Busby says the Watermelon Keg Tapping Kit enables various fruits to be easily transformed into a one-of-a-kind drink-dispensing keg, with the "simple-to-use" shank and faucet combination installed into a standard, hollowed-out watermelon or pumpkin to provide "effortless serving of all types of beverage creations".
"Drink dispensers have changed the way we serve drinks at functions and now the Watermelon Keg Tapping Kit will heighten that experience by bringing a quirky idea into the mix," he said.
"The product is simple to use and is designed to be hassle free. You can use it a few ways: either fill it to create a vodka cocktail to infuse the essence of watermelon or simply fill it with mint, soda water and ice for a healthy drink for kids. It's perfect for all types of celebrations and will definitely be a conversation starter."
The Watermelon Keg Tapping Kit comprises a black faucet handle, shank, faucet and coring tool. RRP is $34.95.