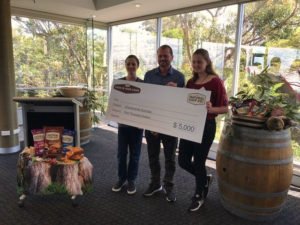 Brett Turner of SUPA IGA Belmont in Western Australia has won $5,000 in the final stages of Snack Brands Australia's 'Cash in Your Chips' independent retailer program.
More than 1,100 retailers entered the program, which encouraged qualified retailers to place package orders of The Natural Chip Company. Entrants had a chance to win $20,000 worth of cash prizes, with a select number given a chance to win a $1 million draw.
Mr Turner was one of eight retailers that were drawn from a national pool of entrants to attend the 'Win Big Breakfast' at Taronga Zoo in Sydney. All finalists were treated to a five-star stay at the Intercontinental Hotel in Circular Quay, with a tailored zoo experience and guaranteed $250 spending money. Mr Turner attended with his children (pictured).
"The kids and I had a wonderful time," he said. "I was very excited and happy to take part in the program, especially with the chance to win a million dollars. Even though we didn't come away with the million, the $5,000 was fantastic. We'll put this back into our store to upgrade our service deli."
To coincide with the refresh of Natural Chip Company, the program aimed to focus on growing volume and range targets within retailers, with a simple, engaging and exciting program. Snack Brands Australia (SBA) opened its new incentive program to independent supermarket retailer groups such as IGA, SUPA IGA, Foodworks and Foodlands operating in Australia.
Launched at the Metcash IGA Trade Show, entrants were given the opportunity to place initial orders of Natural Chip Company to enter a $10,000 'Super Tuesday' draw plus automatic entry into the chance to win $1 million draw. This was followed by more chances to win instantly with 200 x $50 VISA debit cards to be won via scratch-card promotion for every order placed during the program period. Dedicated point-of-sale material was offered to retailers to support the activity and Natural Chip Company was able to secure higher level of displays than previously.
National Business Manager Independents Dan Trad says the incentive gives SBA the opportunity to engage in constructive conversations about how it can work to benefit independent retailers.
"The program has helped increase the range of Natural Chip Company with the added focus on our planogram compliance in a way that was both entertaining and simple," he said. "We hope to explore more incentives such as this program off the back of its success, where we have seen Natural Chip Company sales grow by 25 per cent from last year."
SBA is proudly Australian made and operated using home-grown potatoes and corn. Founded in 1996, it has since acquired some of Australia's iconic snack food brands including CC's, Thins, Kettle, The Natural Chip Company, Cheezels, Chickadees, French Fries, Jumpy's and Samboy.