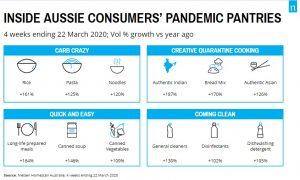 In the four weeks ending 22 March 2020, the volume sales for long-life meals, bread mix, rice, flour and pasta have more than doubled.
Nielsen Homescan research reveals that these numbers means the average Australian household has enough of these items in the pantry to last between two to three months.
"Our recent analysis highlights some clear themes in consumer behaviour we can expect to see over the next few months," says Managing Director of Nielsen Connect, Bernie Hughes.
"More time at home will give rise to more cooking and baking from scratch as consumers find creative ways to use up their pantry staples; but an increase in sales for convenient meal options also cater to smaller person households or those that are juggling the various demands of working from home and home schooling."
Carb loading
The average Australian household has enough rice to see them through 65 days, pasta to last 63 days and enough noodles to last 55 days.
Due to the heavy carb storing, Mr Hughes predicts that, "Brands that focus on health and fitness in the future are likely to see strong demand from consumers who see a renewed sense of importance in staying healthy."
Getting creative
Australian households are likely to make more of an effort to cook from scratch and attempt to make meals outside of their usual repertoire.
Nielsen Digital Content Ratings data shows that on the last weekend of March, Australians spent 71% more time online with food and cooking content when compared to the last weekend of February.
"We anticipate that shoppers will begin to think more creatively about how they cook over the next few weeks," explains Mr Hughes.
Convenience
Since many families are juggling the challenges of working from home and looking after children – shoppers have also stocked up on quick-and-easy meal solutions, including prepared meals, canned vegetables, canned soup, pasta and sauce.
Cleaning supplies
Toilet paper and hand sanitiser are still very hard to come by in-store and online. However, Australian shoppers are also stockpiling other household products including general cleaners, disinfectants and dish-washing detergent.
Disinfectant sales are up 102% on a year-over-year basis.
"Consumer habits tend to change over time, but the COVID-19 outbreak is forcing Australian consumers to reconfigure their lives, their habits and their spending patterns at a speed and scale we have never seen.
"With households now in lockdown and experiencing what it means to have restricted movement, limited access to physical stores and an expanded reliance on digital connectivity, it is important to continue to monitor these trends as we adjust to a new normal," concludes Mr Hughes.