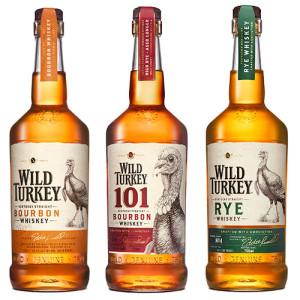 Wild Turkey has unveiled a new look for its premium bourbon and rye whiskey ranges that the distiller believes better reflects the core values of the historic brand.
New packaging for Wild Turkey Bourbon, Wild Turkey 101 and Wild Turkey Rye will be rolled out over the coming months, with plans to evolve the packaging for both Kentucky Spirit and Rare Breed.
The change of packaging comes on the heels of the success of Wild Turkey's super premium limited time offerings such as Forgiven, Diamond, and Master's Keep.
"We wanted the new packaging to capture the hard work, craftsmanship, and heart that goes into making Wild Turkey," Wild Turkey's master distiller Eddie Russell said.
"My father and I have been making whiskey the same way for over 60 years. From hand-selecting the grain to bottling the liquid, and everything in between, we make sure our product is made the right way – the traditional way – at every single stage. We're proud of our whiskey, and we're glad to have packaging that embodies that."
Gruppo Campari's Global Vice-President for Spirits, Melanie Batchelor, says the company is excited to present new global packaging for Wild Turkey.
"Proudly and prominently featuring our turkey brand icon, this new premium look is the result of in-depth research, consulting with our distillery, and listening to bartenders and consumers," Ms Batchelor said.
"With the explosion in interest we've seen in the bourbon and rye categories, driven by classic cocktail trends, we've seized the opportunity for bold premiumisation. With this new, proud and striking design, our packaging for Wild Turkey will now stand out among the competition as our award-winning liquid has done for decades."