Wing, Australia's first on-demand drone delivery service, has partnered with DoorDash, to launch a drone delivery hub at Hyperdome in the City of Logan, Queensland.
The launch of this new operation at Loganholme marks another milestone in the partnership between Wing and DoorDash to provide faster, more efficient, and environmentally friendly last mile delivery options.
Flying from Hyperdome, Wing and DoorDash will help extend the potential reach of participating stores located within the centre, supporting local business growth and increasing accessibility to local residents. Customers in 17 suburbs, nine new and eight existing, will be able to access the service by searching for 'drone' within the DoorDash app. These suburbs include Slacks Creek, Meadowbrook, Loganlea, Edens Landing, Loganholme, Kingston, Beenleigh, Holmview, Tanah Merah, Shailer Park, Daisy Hill, Cornubia, Springwood, Waterford, Waterford West, Eagleby and Bethania.
While the launch at Hyperdome heralds the beginning of a larger partnership with the centre's owner QIC, Hyperdome is an extension of Wing and DoorDash's tried and tested model of co-locating with partners to leverage underutilised spaces as delivery hubs, and the efficiencies this brings to businesses and consumers alike.
"We're grateful for the Logan City Council's continued embrace of drone delivery, and support for innovation. We're thrilled to expand on our offerings in Logan and to team up with QIC and DoorDash to support customer demands for quicker, more convenient, and environmentally conscious delivery options," says Wing spokesperson Jesse Suskin.
Councillor for Division 5 and Chair of Planning, Economic Development and Environment at Logan City Council, Jon Raven says, "The City of Logan has been a frontrunner in adopting drone technology, and this new site demonstrates the increasing demand for a faster and sustainable delivery method. The Hyperdome shopping centre serves as a trade area to a population of over 220,000. This drone service will have a major impact on boosting the local economy, supporting local business growth, and increasing accessibility to local residents by extending the potential reach of the hundreds of stores located within the centre."
The initiative also emphasises QIC's focus on supporting retailer growth and consumer experience, while ensuring their properties are future ready by embracing emerging technologies and services. While for DoorDash it creates a quick, efficient option for smaller orders and frees up their teams to focus on larger deliveries.
Hyperdome Centre Manager Brian Turner says, "By bringing drone delivery to Hyperdome in Logan, we can help retailers harness another avenue of business while improving the shopping experience for our customers."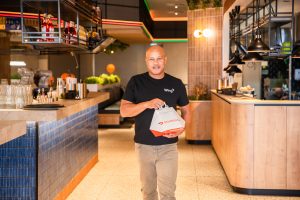 DoorDash Australia General Manager Puji Fernando says, "DoorDash is committed to providing the best delivery options to our customers. We are excited to announce this new service from QIC's Hyperdome in Loganholme in conjunction with Wing. Drone delivery has become a great experience for our customers in Ipswich and we are excited to expand our service within Queensland."